Two abstract paintings featured at the Charlotte Arts Gallery in the Port Charlotte Town Center Mall
(Updated 1/9/2020)
Punta Gorda/Englewood Beach is bustling and bursting with art and craft in all media; artists of all flavors; creative spaces and retail shops; and myriad natural inspiration. As part of my continuing mission to scratch the surface for you, here is Creative Confluence, Part 3 (Port Charlotte, Part 1)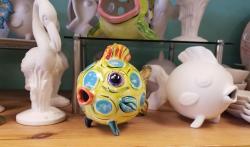 Bisque IT Studio is a wonderful place to make-and-take a keepsake of your trip! You can paint one of the (hundreds of) cute bisque items, hand-build a clay something, create a fused-glass ornament or plate (a training class is recommended for fused-glass projects, ahead of actual creation), or attend a canvas or wood painting party! Clay and glass items can be picked up in three days (to allow for firing), or they can ship it to you if you leave before it's ready. Follow them at facebook.com/bisqueitstudiofun. 1931 Tamiami Tr.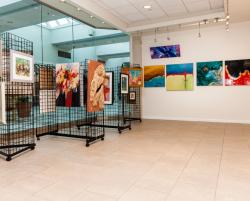 Charlotte Arts Gallery In addition to their Arts in Public Places, Charlotte Arts curates and maintains a top-of-the-line art gallery at the Port Charlotte Town Center Mall. Visit facebook.com/charlottearts to peruse some of the art and stay up-to-date, and definitely make it a part of your next visit to the mall. 1441 Tamiami Tr.
Charlotte Players bring great fun, talent, and music to the stage of their black box theatre, the Langdon Playhouse, and lately they've been hitting the road to offer (always sold-out) Murder Mysteries on boats, in cabaret settings, and at dinner parties! Follow them at facebook.com/CharlottePlayers so you don't miss your chance to experience their next performance! 1182 Market Cir.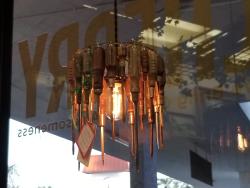 Cherry Hill Home is the "fun, funky, and different" brainchild of owner Marc "Junkmaster" Washicheck, the artist/creator. He's a potter, woodworker, and lighting expert, who makes most of the art in the store, which includes everything from funky lighting (note: that photo doesn't do justice to the flat-out coolness of that screwdriver lamp) and yardstick tables to unique shells, ironing board tables, and so much more. You never know what you'll find, or what you'll learn: he also offers periodic seminars like "How to redecorate without spending money." Open Fridays and Saturdays and by appointment, in the same shopping center as Creative Crapoloa and Island Woman, La Plaza, at 2811 Tamiami Trail. Follow him at facebook.com/CherryHillAntiques.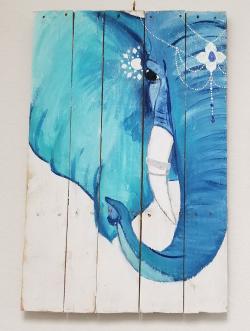 Creative Crapola is family-owned and operated, and is known for their woodworking, chalk painting, and crafting specialties, as well as their decorating and event-planning expertise. "Reduce, Reuse, Recycle, Re-purpose" is their way of life! The store is chock-full of every style of art, from charming signs to furniture, tons of holiday décor, and so much more! Give yourself plenty of time to browse and shop, you don't want to miss anything. Even better: classes are afoot and craft fairs (in conjunction with neighboring stores Island Woman Creations and Cherry Hill Home) may be coming! Follow them at facebook.com/creativecrapola. 2811 Tamiami Trail
Funkie Junkies curates 100,000 items from over 3,500 consigners, vendors, and artists, at two locations. The Punta Gorda location is 10,000 square feet of funky treasures, with loads of rooms and nooks and crannies. The Port Charlotte location is a smaller, boutique-style setting. When you go, give yourself time to browse unique and magical vintage, antique, farmhouse, coastal, cottage, shabby chic, and hand-painted items. Follow them at facebook.com/shopfunkiejunkies. 787 Tamiami Tr.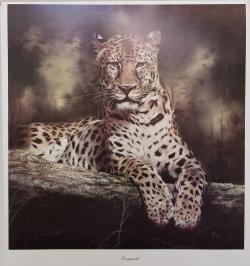 Island Woman Creations – 90% of the goods in this amazing space are hand-crafted by the owner, Cecile Lee-Gelb, and she personally curates the other 10%. She's even commissioned a custom tea for her store: mango, pineapple, guava, and orange peel (yes, it smells as heavenly as that sounds). Just a few highlights: hand-crafted dichroic glass charms, one-of-a-kind skirts and caftans crafted from hand-made fabrics that take 6 months to get, stunning (and functional) beach bags crafted from boat cushions—the ultimate in fashionable up-cycling, and a stash of stunning Sonia Torres prints that are worth a dedicated trip. Hand-crafted lip balm, soap, body wash, face butter, candles and other personal care items round out the eclectic atmosphere of this gem. Follow her at facebook.com/Cecilegelb 2811 Tamiami Trail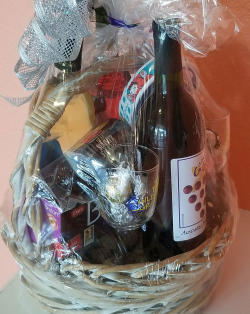 Gilded Grape Winery & Wine Bar: The Art of Wine Making Aside from the fascinating Do-It-Yourself Wine Making Experience, this boutique wine shop offers a wide variety of musical entertainment, karaoke, wine-glass-painting parties, Drag Queen Bingo, craft beers and snacks, and a relaxing atmosphere. They're also a one-stop-shop for wine and snack lovers over the holidays and for other gift-giving opportunities: the gift baskets are truly creative and chock full of goodies! Like and follow them at facebook.com/gildedgrapewinery. 4069 Tamiami Tr.

Catch up with the series and read Creative Confluence: Punta Gorda, Part 2 and the next in the series, Creative Confluence 4: Port Charlotte Pt. 2.