Just as Charlotte Harbor Estuary is the confluence of the Myakka, Peace, and Caloosahatchee Rivers, so to is Punta Gorda/Englewood Beach a confluence of creativity. There are so many individual artists, inspired groups and cultural organizations, and creative retail spaces in the area, you'll need to visit us several (or ten) times to experience even a bit of it all. In fact, we'll need several posts in order to cover even a percentage!
Let's start with Punta Gorda (Part 1)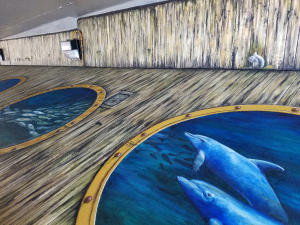 A great kick-off to a creative adventure is a stroll through downtown Punta Gorda: some of the buildings are the canvases, depicting the history of the quaint little town through art, thanks to the Punta Gorda Historic Mural Society. Their newest work, Tails from the Harbor, is actually located on the Punta Gorda Harborwalk, under the US 41 S bridge. Visit their site for a guide to all the murals, a downloadable walking map, an interactive map, and more, then explore to your heart's content! With 30 murals to find and enjoy, you've got plenty to see. 
Art in Public Places by Charlotte Arts: Art is always on display (and for sale!) at the locations below, and wine-and-goodies receptions for each new show are scheduled every two months. Many receptions feature live music. Subscribe to their newsletter to plan your next trip!
Art in Public Places Locations (Punta Gorda and Port Charlotte):
Port Charlotte: Arts & Humanities Council of Charlotte County • Charlotte County Administration Center • Mid-County Regional Library • Port Charlotte Library
Punta Gorda: Cayo Costa Dental • Charlotte Harbor Event and Conference Center • Charlotte Memorial Funeral Home • Kays-Ponger & Uselton Funeral Home • Punta Gorda Airport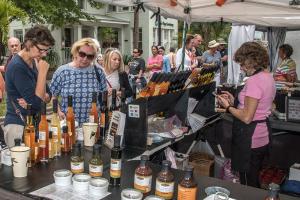 It just so happens that the first day of the (now quadrennial) Sullivan Street Craft Festival by the Punta Gorda Chamber of Commerce and American Craft Endeavors, falls on National Live Creative Day, which is Saturday, Sept. 14. The fall fair runs Sept. 14 and 15, 10:00 am--4:00 pm, and many of the best artists, artisans, and crafters from our inspiring area—as well as from across the nation—will transform Sullivan Street in Downtown Punta Gorda into an art- and craft-lover's paradise. With all the treasures you'll find--including jewelry, ceramics, wood carvings, stained glass, fine art, photography, handmade soaps, and much more—you'll want to start planning to attend the next one, January 18 and 19, 2020, right now.
The Charlotte Symphony Orchestra is a world-class symphony in our own back yard! Usually their season begins in November, but this year they're kicking off with a special Pre-Season Teaser Concert, Oct. 27. Don't miss the music of John Williams & Friends, including music from Star Wars,, Spiderman, E.T., Pirates of the Caribbean, Harry Potter, and more! The Symphony performs at the Charlotte Performing Arts Center, 701 Carmalita St., Punta Gorda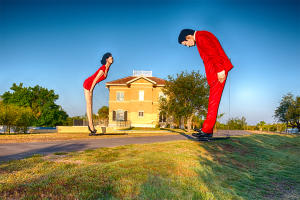 Peace River Botanical & Sculpture Gardens is a perfect amalgam of art and artful nature. The astounding installations from international artists and an ever-growing display of nature—including colorful koi fish—will inspire and soothe. Visit their Facebook page often to keep tabs on the progress of their butterfly pavilion, being constructed now and hopefully available to visitors in October, so you can make your plans to come back and experience it! 5800 Riverside Dr., Punta Gorda
The Visual Arts Center Two large galleries are always bursting with treasures from local artists, and many special items are available in the gift shop. Exhibits rotate often and are always free and open to the public. If you're a seasonal resident or on an extended vacation, think about attending a class or three, and/or one of their art receptions or creative events like The Battle of the Brushes and the Plein Art Quick Draw. 210 Maud St., Punta Gorda
Watch this space for Creative Confluence: Punta Gorda, Part 2!