Mermaid painting at Eclectic Whimsy
In addition to amazing beaches, Punta Gorda/Englewood Beach has a thriving art and craft scene, with hundreds of local artists in all genres and media, lots of creative spaces and retail shops, and unlimited natural inspiration. Just as the Charlotte Harbor Estuary is the confluence of the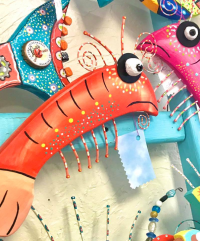 Myakka, Peace, and Caloosahatchee Rivers, so to is Punta Gorda/Englewood Beach a confluence of creativity, and these Englewood locations are perfect for pre- or post-beach creating, shopping, and relaxing.
This self-described "happy shop" is an upcycling and art haven, and is home to over 30 local artists. Find custom-painted furniture from coastal to bohemian, junk art, pottery, painted wares, jewelry, wall and table top décor (and yes, even tables), or make your own in one of their art classes, like chalk painting, coastal crafts, and acrylic painting. 2801 Placida Rd.
Old Florida Outdoor Center and Gallery
Find fine art and unique gifts and souvenirs, enjoy live music, history tours of Englewood, and painting parties (public and private) at this wonderful shop. Their goal is to, "inspire and educate through art, history, adventure and stewardship, and provide a community for those who seek to do more, see more, and live more." 463 W. Dearborn St.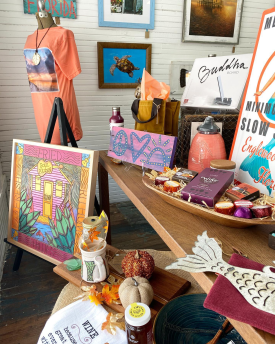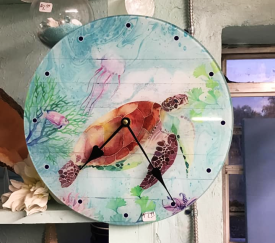 Sheryl's Shell Shop
If you're looking for local and exotic shells, coral, star fish, sand dollars, and gift ideas, Sheryl's is the place for you! In addition to a large inventory of sea-themed treasures, you can create your own souvenir keepsake of your time in Punta Gorda/Englewood Beach with one of their resin art classes. They provide the frame, resin, a beach background if desired, sand, Diamond Dust, and all the sparkly "fillers" to add color to your art. Purchase hand-made and hand-painted molded figures like mermaids, dolphins, turtles, etc., and/or bring a small selection of your own shells and fossilized shark teeth (that you likely just found on the beach) to use. The class takes approximately an hour, and then you leave your artwork overnight to cure, and pick it up the next day. (Masks are required.) Sounds like a fun and creative way to remember your time here! 1185 S. McCall Rd.
Treasured Memories
Most of us like to take a lot of pictures when we travel, and many save them digitally. If, however, you'd like to create a physical keepsake of your visit with us, think about a trip to Treasured Memories in Englewood for scrapbooking supplies and inspiration. Online photo galleries are fine, but a scrapbook or hand-crafted card is a gift to a family for generations to come, especially when you include your own handwriting. They carry supplies for scrapbooking, card-making, and other crafts, and also offers craft classes in card making, scrapbooking, stamping, watercolor painting, and more. Well worth the trip if you'd like to create a lasting memento to pass down through your family. 2670 S. McCall Rd.
We hope we've inspired you to explore our many creative spaces when you're in Punta Gorda/Englewood Beach!