Every time I visit Englewood Beach I fall in love with a blind date. I've recently taken the pineapple plunge and next time I'm in Punta Gorda I've decided I wouldn't mind being 'punched' by a captain. It's totally worth it.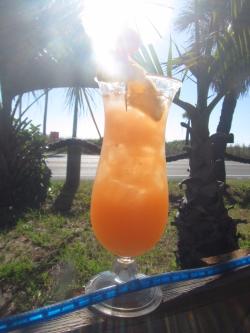 I blame sunset. There's just something about the fiery colors painting the sky in reds, oranges and yellows that begs for a cocktail in hand. Sunsets and cocktails go together like rum and Coke, vodka and OJ and, well, you get the point.
Find a restaurant, bar or tiki hut along Charlotte County's stretch of the Gulf of Mexico, its rivers and bays and you're bound to find creative cocktails with a tropical vibe, fruit garnishes and tiny umbrellas worthy of properly toasting the greatest show on earth.
You won't see the Gulf from either the White Elephant or Flounders on Englewood Beach. But claim a table close to Beach Road/Gulf Boulevard and you will witness the sky burst into vibrant colors as the sun dips behind sea oats and low dunes at the beach across the street. At the Elephant, order a Blind Date (a combo of pineapple juice, Captain Morgan, amaretto, vodka and peach liqueur) that's sunset-orange and finished too soon.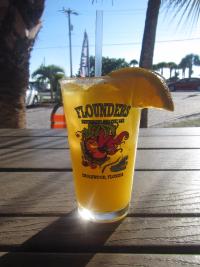 Fresh-squeezed OJ gives Flounders' Tiki-Rita a tangerine glow but don't be fooled by the color. It's sour (in a good way) like a traditional margarita despite a splash of agave nectar. For fruitier options share the Turtle Crawl, a big white bucket filled with multiple rums and fruit juices, or the Pineapple Plunge (pineapple chunks soaked in coconut rum).
The Gulf View Grill's second-floor perch, floor-to-ceiling windows and open-air balcony (closed for private events) provide optimal sun-meets-Gulf viewing. It's a sweet counterpoint to the Manasota Citrus martini's tartness, courtesy of grapefruit, lemon and lime juices, citrus vodka and St. Germain Elderflower liqueur.
At Stump Pass Grille (Motto: What happens here we talk about all week) enjoy the sunset from the oversized tiki bar overlooking a wide sweep of Lemon Bay with a wine-based strawberry daiquiri and piña colada.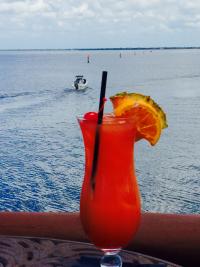 Don't be surprised if dolphins try to steal the show at the Captain's Table in Fishermen's Village on Charlotte Harbor. Say yum to the rum and ask for Stu's Splash, a server-created concoction of mango and coconut rums, orange, pineapple and cranberry juices with a spiced rum floater.
In Punta Gorda, salute the sunset over the Peace River at Laishley Crab House with a Purple Porpoise, a martini laced with Bacardi wolf berry rum, Blue Curaçao, cranberry and lemonade.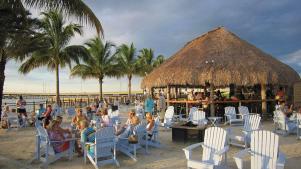 Get outside and right on the river at Four Points by Sheraton's tiki bar. Play sand volleyball, sit in the glow of a fire pit in a sunset-facing Adirondack chair and sip on Captain's Punch, a blend of spiced and coconut rums, pineapple and orange juice with banana liqueur.