Each morning during sea turtle nesting season, dedicated volunteers walk Charlotte County's beaches checking for new activity. They begin during the predawn hours and typically finish their duties before most people make it into the office. 

Volunteers are looking for evidence of a sea turtle crawl from the shoreline up onto the beach. They are looking for evidence of a nest and mark it off with yellow-painted stakes and orange tape. Come summer, they are also looking for evidence of nighttime boils – nests that hatched. The term boil is used because the image of dozens of hatchlings emerging at once from a nest looks like a pot of water boiling over.  

Carol and Gene McCoy are two sea turtle patrol volunteers with the Coastal Wildlife Club. Carol is also the chairwoman of the Friends of Stump Pass Beach State Park. Volunteers are assigned a section on the beach and on a breezy August morning, we joined the couple and another volunteer named Karen, on patrol. One of their missions was excavating loggerhead turtle nests that hatched a couple of days prior.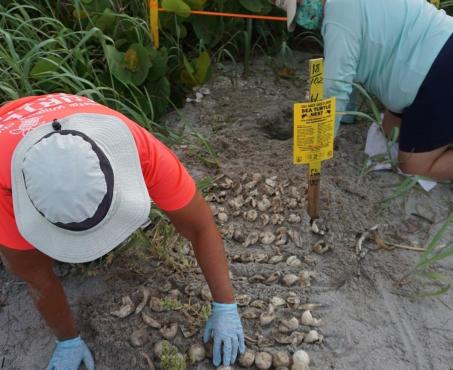 Volunteers from the Coastal Wildlife Club
Volunteers typically excavate nests two days following a hatch so they can determine how many hatchlings emerged. They do this by digging into the nest and removing sand all contents. Eggshells are lined up in rows of 10. Oftentimes they find intact eggs because they did not incubate. And sometimes, they find a hatchling or two at the bottom of the nest. 

Hatchlings emerge from a nest together and instinctively race towards the water where they begin another stage of life. For whatever reason, a few hatchlings may be left behind and unable to crawl out of the nest which is typically 18" – 22" deep. 

During our outing with the CWC volunteers, two nests were surveyed. The first had more than 70 eggshells and a few unhatched eggs. The second nest, only a few feet apart from the first one, had evidence of almost 100 eggs including about a dozen of unhatched eggs and one hatchling!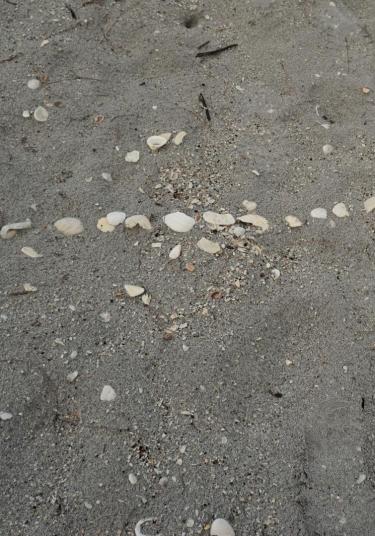 Seashells Indicate a Surveyed Nest.
All the contents, except the hatchling, were returned to the nest and buried. Typically, the yellow stakes and caution tape are removed and a line of whole and broken seashells is made in the sand pointing to where the nest was. Because these nests were under branches of a sea grape tree, lines were made next to each nest. Data is documented and provided to the Florida Fish & Wildlife Conservation Commission (FWC). 

Carol carefully picked up the hatchling and set her on the ground and the young sea turtle began her journey to the Gulf of Mexico. Climbing through human footprints and little mounds in the sand, she struggled. These were mole hills to humans but mountains to her. It took her about 20 minutes to reach the shoreline where a wave whisked her into her new home. We watched her bobble and swim in the water before she disappeared. 

A sea turtle hatchling has a one in 1,000 chance of survival. She'll be back to Englewood Beach in about 25 – 35 years to lay her first nest.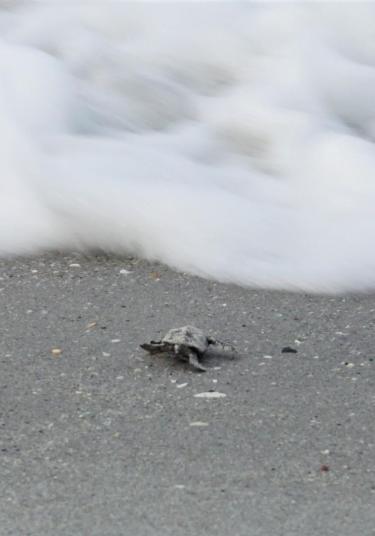 Loggerhead Sea Turtle Begins New Life.
Sea turtle nesting season is March 1 - Oct. 31. During that time, beach residents and visitors should: 
If staying in beach accommodations, keep lights turned off or have turtle-friendly lights.
Remove beach recreational items each night, like chairs, umbrellas, coolers, toys, etc. 
Fill in any holes dug in the sand and knock down and level any sand sculptures built on the beach. 
Watch your step when walking the beach, no matter the time of day. Sea turtles typically lay eggs and hatch at night but, sometimes sea turtles have different plans and have been seen in daylight. You won't want to step on a hatchling making a run for the Gulf! 
Do not disturb sea turtles or their nests. Do not touch sea turtles, dig or stomp on their nests, or shine lights on the turtles or their nests. View them from a distance.  
If you see a sea turtle in distress, call FWC at 1-888-404-FWCC (3922) or *FWC from your cell phone.
Learn more about sea turtles found in Florida by visiting the FWC website. Learn more about what the Coastal Wildlife Club does by visiting their website or connect with them on Facebook.