Rotonda Golf & Country Club - Long Marsh
If you're looking to experience or appreciate the sporting life, Punta Gorda/Englewood Beach is the right place for you!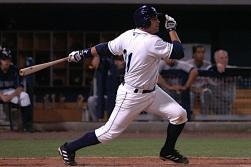 Baseball
In addition to hosting spring training for the Tampa Bay Rays at the beautiful Charlotte Sports Park, we've been honored to host numerous youth and collegiate tournaments like the Snowbird Baseball Classic at the park and other well-maintained fields in the county. 
There's truly nothing like attending a live baseball game, be it major league Spring Training, or college or youth. The sounds of the game and the crowd, the aroma of enticing ballpark food, and the atmosphere of camaraderie allows us to step out of time for a bit.. Explore our Baseball page to read more about America's (enduring) Pastime in the area.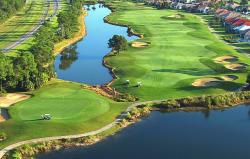 Golf
With over 20 golf courses—that's 450 scenic holes of golf!—in our area, designed by people like Mark McCumber, Arthur Hills, Ron Garl, and Gordon Lewis, you're sure to find a favorite. You'll find challenges for every skill level beautifully showcased by natural landscaping that honors our native Florida wildlife. You can even find night golfing!
One of our beautiful local courses, Riverwood Golf Club, was ranked #26 on the list of Top 50 Golf Courses in the U.S. in 2018, and has consistently placed in Golf Advisor's Top Courses in Florida: they were #18 in 2019; #4 in 2018; and #5 in 2017. 
We're also very excited about the two brand-new courses that opened earlier this year, Babcock National Golf Club and Heritage Landing Golf & Country Club!
Visit our Golf page to plan your next round (or ten), and check out our Golf Guide for an overview of what Punta Gorda/Englewood Beach has to offer.
Pickleball
Pickleball engenders such passion in its players it's one of the fast-growing sports in the U.S. It's so popular in Punta Gorda/Englewood Beach, in fact, that we've got a deluxe facility—The PicklePlex of Punta Gorda—devoted to Pickleball and other competitive sports.
The 'Plex currently offers 16 outdoor courts. Their emphasis is on educating youth and the underprivileged on the merits of sports activities and fitness, as well as providing a place to learn and play Pickleball, of course. They've already hosted several extremely successful tournaments which attracted participants from out of state and all over the world.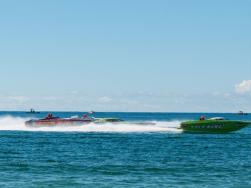 Englewood Beach Waterfest
The month of November is a celebration of all things water in Englewood and the Cape Haze peninsula, culminating in the World Championships for OPA Racing (Offshore Powerboat Association). 
With marine education exhibits, food, family-friendly-fun, vendors, and more, there's something for everyone at Englewood Beach Waterfest. ​For up-to-date information, visit their website and follow them on Facebook.
Boxing, Beach Volleyball, Lacrosse, Gymnastics
Punta Gorda/Englewood Beach is usually host to many sporting events, from Sugar Bert Boxing to EVP Beach Volleyball, Collegiate Lacrosse, many amateur gymnastics tournaments, and more.
Hunting
Hunting for quail, wild boar, turkey, and even alligator is available in our area. Type "hunting" into the main search box in the upper right of this site to find guides, experiences, and hunting areas.
Whether you're looking to watch some sports or challenge yourself physically, explore territory both charted and not, art around or shop to your heart's content, indulge in amazing food and drink, appreciate animals both wild and domestic, or have a truly spectacular outdoor adventure, Punta Gorda/Englewood Beach has you covered!
Once you're comfortable traveling, come see us. We're waiting with open arms to make your trip a memorable—and sporty!—one.