According to our friend Google, a tour is, among other things, "a journey for pleasure in which several different places are visited," and a tourist is "a person who is traveling or visiting a place for pleasure."
Pleasure being the common word, if yours is exploring, you've come to the right place!
 
Trail Mix: Bicycle, Walking, Equine, Birding, and Blueway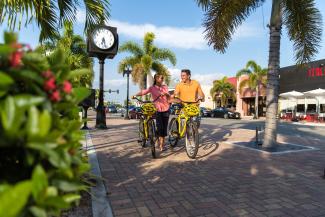 Punta Gorda/Englewood Beach boasts a custom trail mix of a different variety. Instead of nuts and chocolate and seeds, you'll be nourished by nature and wildlife, peace and quiet, and fresh air and sunshine. You can still totally bring your chocolate, etc., just please leave nothing but foot-, bike tire-, or hoof-prints, and take nothing but pictures.
Biking is big in the area, with many bike trails and places to ride. The city of Punta Gorda even offers free bicycle loaners. Visit our Biking page for a good overview. Most trails are multi-use if you prefer a nice walk.
The three state parks in Charlotte County are the Charlotte Harbor Preserve State Park, the Stump Pass Beach State Park and Don Pedro Island State Park. Please note: while the landside is open, the island of Don Pedro remains closed for the time being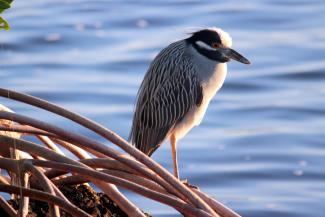 If birding is your thing, you'll find seven sections of the Great Florida Birding Trail—a network of more than 500 premier wildlife viewing sites throughout the State of Florida—in our area. Find bald eagles and migrating waterfowl at Cedar Point Environmental Park during the winter months, and at the Tippecanoe Environmental Park in Port Charlotte, you'll see a vast array of native wildlife. You may even catch a glimpse of the Florida Scrub-Jay, an endangered species that is the only bird unique to Florida. 
We love our trails, and especially the fact that they're not limited to land! Our waterways are also considered trails, of the Blueway persuasion. Visit our Kayaking, Canoeing & SUP page to find all kinds of water experiences and view and download the Blueway Trails Guide (PDF) to get started experiencing this beautiful area by watercraft.
If you're looking for a one-stop spot for hiking, biking, scenic driving, birding and wildlife viewing, camping, fishing, hunting, and horseback riding (BYOH), the Fred C. Babcock/Cecil M. Webb Wildlife Management Area may be your dream destination. 
 
Off the Beaten Path
If you're the blaze-your-own type when it comes to trails, you'll also find plenty to explore.
Our Boating and Watersports page has plenty of information to help you get out on the water, including a nice variety of marinas, boat ramps, and more. 
It's easy to enjoy our gorgeous land and sea, but if you're looking for even more adventure, look up…then take off! Yes, we mean skydiving: Skydive Southwest Florida offers one of the most scenic drop zones in southwest Florida. 
 
Self-Care and Spas
All that touring and tourist-ing leads perfectly into some self-care and pampering. Find your next refreshing and luxurious experience on our Spas & Wellness page.
 
Explorable Communities
The Charlotte Harbor Gulf Island coast is comprised of many different communities, all offering their own unique flavors and experiences, from the nation's first solar-powered town, Babcock Ranch, to the pristine beaches of Manasota Key, and everything in between. Visit our Communities page to explore more.