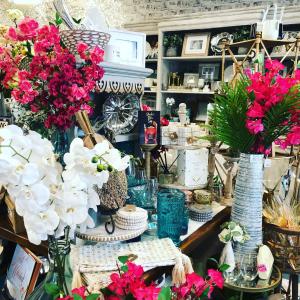 Punta Gorda/Englewood Beach is a very inspired community, with the largest free art gallery in the region, the Visual Arts Center; a true artist collective, Sea Grape Gallery; the work-space Artisan Atelier, where you can not only see wonderful art, you can watch the creative process and talk to the artists; and the charming Hatch Gallery, where you'll find all manner of wildlife rendered on natural and unexpected materials.
To truly experience larger-than-life-size art, up-close-and-personal, visit Peace River Botanical & Sculpture Gardens. This one-of-a-kind spectacle of intriguing botanicals and mind-bending world-class art installations reflects the area's love and celebration of nature, conservation, and creativity. 
Our retail spaces also offer a great variety of goods and experiences, like several open-air farmer's markets, independent bookstores, all manner of boutiques carrying curated clothing, jewelry, and accessory collections,  one of the nation's top Harley-Davidson® dealerships; and…too much else to name! 
There's no better memento of a lovely trip than a piece of art or a keepsake you find on your travels. Visit our Arts & Culture page and our Shopping page to start planning your creative shopping journey. 
Punta Gorda/Englewood Beach really is a dream come true for art (and retail) aficionados.