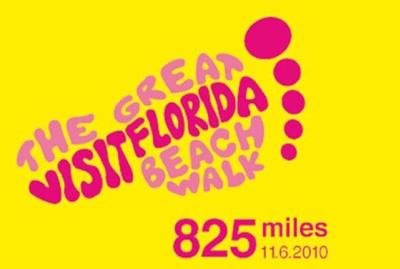 What are you doing the morning of Saturday,  Nov. 6? How about walking a mile of beach, photographing it and sharing it with the world to prove Florida's beaches are fabulous and oil-free?
The Englewood-Cape Haze Area Chamber of Commerce is the Charlotte County for this state-wide event. I'll be out there walking my mile and hope to see more of you, too.
Learn how you can participate by viewing the following media release.ENGLEWOOD, FL (October 27, 2010) – Florida volunteer organizations and beach-lovers in Charlotte County are invited to join the Great VISIT FLORIDA Beach Walk, coming Saturday, Nov. 6, when Floridians rally to celebrate the Sunshine State's sandy shores and show the world – with photos from each of the 825 miles – that Florida's beaches are as wonderful as ever.
Volunteers can register now at Volunteer Florida to walk a beach mile and upload a photo.
All 34 of Florida's beach counties – including Charlotte County – have enlisted volunteer hosts, and a diverse group of volunteers from Scout troops to retirees are among the first to sign up as Beach Walkers. The momentum for the 825-mile walk is growing daily.
"We have some challenges with some of our best beaches accessible only by water, but are looking forward to covering our entire 12 plus miles," said Jack Gray, volunteer chairman of the Tourism Development Committee for the Englewood-Cape Haze Area Chamber of Commerce. "This is a terrific way to show off our unique locales and let the world see why we are so proud of our natural resources here," he added.
Event Day Details
Registered individual or group volunteers will walk their official mile between sunrise and 11 a.m. and take a photograph along the way to upload to the internet. By 11 a.m. EST, each official County Host will know how many of its county's miles have been walked and photographed, and will report in to Beach Walk Operations Centers. There are just over 12 miles of beaches to be walked in Charlotte County including portions of Manasota Key, Don Pedro Island where Palm Island Resort is located, Little Gasparilla Island and northern Gasparilla Island near Boca Grande Pass. All photos will be displayed on www.VISITFLORIDA.com/beachwalk. Groups already committed to be part of this event include the Coastal Wildlife Club and Palm Island Resort.
All Beach Walk photos, uploaded in real time, can be seen on www.VISITFLORIDA.com/beachwalk. VISIT FLORIDA will promote this grassroots photo gallery nationwide, drawing attention through the lenses of everyday Floridians to the fact that Charlotte County's beautiful beaches are as wonderful as ever – just in time for the winter tourism season.
For information about your individual or group participation in the Great VISIT FLORIDA Beach Walk, media should contact Jon Bednerik at (9410) 474-5511 or ceo@EnglewoodChamber.com.
Florida Organizations Partnering for Florida
The Beach Walk is being supported and promoted by a number of great Florida organizations. VISIT FLORIDA, the state's official tourism marketing organization, is hosting the overall effort, including the website to enlist volunteers and promotion beyond state boundaries to potential visitors.
Volunteer Florida is organizing the official volunteer efforts across the state. The Florida Restaurant and Lodging Association is reaching out through its extensive network of partners to let Floridians know about the event and support participants. The Florida Lottery is providing promotional support, and organizations such as the Florida State Parks and the Florida Fish and Wildlife Conservation Commission are contributing expertise and volunteers.
"There is so much excitement about this event that we are confident we will have a great turnout in support of our state and all our beaches," said Wendy Spencer, CEO of Volunteer Florida.
"This is a great opportunity for all of us to enjoy what we love about Florida and support our state's economy at the same time," said Will Seccombe, VISIT FLORIDA Chief Marketing Officer. "By sharing thousands of photos of every one of Florida's 825 miles of beaches, we will put to rest any lingering concerns from this summer's oil spill."