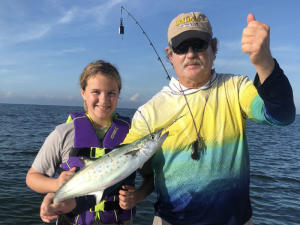 Fall is here, both Spanish and king mackerel are already arriving. Both are strong aggressive fish offering sport and tasty dinners. We find them around bait pods in nearshore to offshore Gulf waters off Charlotte County. They can be taken on lures and natural live baits. We look for birds and baitfish to locate schools of hungry fish. Both are good table fare if iced properly. Bury them in icy brine for firm flesh. Watch out for sharp teeth. Charter boats are a great way to learn about mackerel fishing.
We can troll spoons or lures for either mackerel. It's easier than catching baitfish. The live minnows are great if you have the gear to catch and carry them. Match your gear to the fish and enjoy the action. Both have liberal bag limits but are best fresh. You can fry, blacken, smoke, BQ, or broil mackerel. I don't recommend freezing. Share with family and neighbors.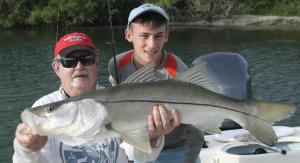 Inside and back country fishing is good now. The snook, redfish, and trout all offer catch and release action for all interested. Plenty of trophy fish scattered over the Charlotte Harbor waters. Minnows are still available, plus lures produce also. Snook are moving inside and redfish out towards the Gulf. Trout are everywhere.
Near shore action includes cobia, barracuda, mackerel, snapper, and tripletail. The migratory fish are moving by our beautiful Gulf Beaches now. Plenty of fish and action. Sharks of all sizes follow these big migrations. With stone crabs opening the traps offer floats holding tripletail. Cobia, cudas, mackerel, and more are on our reefs.
Bottom fishing is good with all but red snapper open for harvest. Again, the properly permitted charter boats are the best bet but you can locate fish of you work at it. I like lighter gear for snapper, many more bites with lots of action. The bigger fish are usually deeper and require longer boat rides. Big grouper and amberjacks can test your metal and gear. Please play it safe and avoid rough seas.
We can expect the pompano to bless our catches anytime. I enjoy this action when they are around area passes. These fish move a lot and it's hot or cold. We do catch many other species when looking to keep it fun. We use light spinning gear with lead jigs to cover ground and entice hungry fish. Pompano are one of our top food fish. Take advantage of this transition season for great fishing.