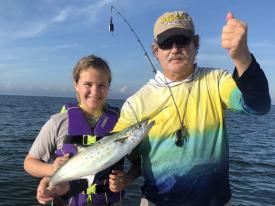 Last month ended with east winds and an awesome mackerel run right off our beautiful Gulf Beaches. We had school after school of Spanish mackerel with larger kings mixed in. Some were within casting distance from the beaches. We can expect them to stay until it gets colder. We never know what to expect, it might chill for Thanksgiving or maybe Christmas. I do expect them to hang and provide fun action thru November. Enjoy this action when you can.
These are easy fish to catch with lures or natural baits. Trolling is the simple way to get started. Silver spoons or lures produce action. Look for Terns to help you locate feeding fish; old timers call 'em mackerel birds. Local bait shops and captains can help you get rigged to hookup. Natural baits are great but require the ability to capture and carry. Excellent choice if you are set up to utilize them.
We find sharks of all sizes and kinds mixed in. these are powerful and fun when we match our gear to size of them. Sharks can become a nuisance when mackerel fishing but always pull hard. Cobia, little tunny, tripletail and even tarpon surprise us frequently. We never know what we might hook up now. We usually can discover plenty of big fish action.
If winds allow, we still have good grouper and snapper action farther offshore. Everything depends on the winds and your ability to cope with waves. Let your skipper help you match things up. Both mackerel will turn up in deeper waters too. Cobia show up on the wrecks and a few barracuda linger to tangle with us.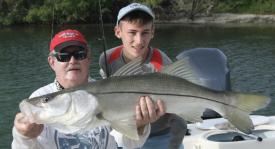 Inside action is also good just remember snook, redfish, and trout are still catch and release. Minnows will become challenging to find soon. Try live shrimp or soft plastics. We should have a shot at a few pompano or whiting to put a meal together. Golden nuggets can be difficult to locate but strong fighters and the best dinners. Some Spanish add to the catch too. Ladyfish, jacks, and bluefish add to the action. Windy days are okay here because we can work protected waters to enjoy inside adventures. Dolphin and manatees add to our entertainment now also.
November is a transition month; it's finally cooling down and we look forward to this stimulating both us and the fish. Find time to get away from it all to enjoy beautiful Charlotte Harbor and our fabulous Gulf Beaches. Share some pure Florida with your family. Let's go fishin' with Capt Van Hubbard.