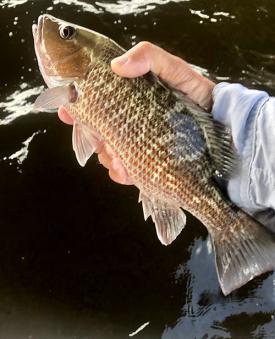 Weather dictates our options in January. We can usually find a protected area and catch something on the inside waters, even on windy days. We have a large variety of species to play with. Several species are catch and release only, but we do have sheepshead, whiting, mackerel, and maybe some snapper available for dinner. Snook, redfish, and trout are closed to harvest now, but fun to play with. We have ladyfish and other fun fish to bend our rods and provide action.
Inshore outside is good fishing whenever winds allow us safely and comfortably into our Gulf waters.  Snapper are our primary target with sheepshead and red mouths to help out. These are not big fish but provide action plus tasty meals. We get some red grouper but only a few keepers in these waters. Occasional flounder bless our catches, just not dependable. These trips are 9 miles or less from the beaches.
These is good deep-sea action on red grouper and several snapper if you can match your fishing date with fair weather. We have several good offshore operations I just don't do the deep-water trips myself. Captain Ralph Allen and several others offer these trips.
We also do eco trips and see many migratory birds, eagles, osprey, brown and white pelicans and many more species. Dolphin are playing around the boat many trips. Manatees are grouped up in warmer protected places now but can find them most trips. Our waters and outdoors are wonderful  ways to get out and breath some fresh Florida air. Let's go fishin' soon!