Our cool fronts have slowed down and local waters have cleared up beautifully, leaving the clear blue-green Gulf waters full of hungry fish. The fishing has been great in clear local passes when winds are lighter. Inside fishing is red hot: mostly catch-and-release, but plenty of action. We do hope to see information about these fishery openings next month.
As our water traffic slows down our catching will continue to improve. If you enjoy fishing, this is the time to go!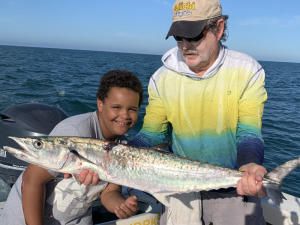 The Gulf offers numerous opportunities. We still have both Spanish and king mackerel. They are abundant with liberal bag limits. These are your target if you want fish to share. They are speedy, exciting fish to catch with multiple hookups common. We frequently troll for mackerel, which is easy and productive. Several other species add to our trolling adventures: cobia, little tunny, jacks, and more.
Barracuda and permit patrol our reef systems. They require specific targeting, but they are wonderful trophies to enjoy. Sharks of all sizes are adding big fish excitement to our action. Some are smaller, about three feet, with others much larger.
Grouper and snapper action improves as we range farther offshore on our adventures. Red grouper and assorted snapper provide excellent fresh fish dinners. We frequently encounter various other species when bottom fishing to add to the action.
Inshore Spanish and some king mackerel provide dinner for fish-hungry anglers. Liberal bag limits and abundant, exciting fish make happy fishermen. Jacks, ladyfish, and even bluefish add action and keep us busy.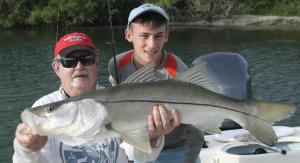 The back country and inside fishing heats up along with water temperatures and produces snook, trout, and redfish action. Again, these are all catch-and-release for now. Snook are beautiful fish and fun to catch. They might convert bass anglers, because larger fish are common. Snook usually jump between lightning runs and act much like freshwater bass but super charged! Redfish are tough, strong battlers, requiring you to take your time to wear them out to release. Trout are full of amazing colors and fun to play with. Ladyfish, jacks, and many other surprises add to the adventure. Live minnows or lures both produce action. Some mackerel and maybe a pompano or snapper might provide dinners.
This is some of our best fishing action. Tarpon are starting to move in to add even more excitement. Consider your options and make your reservations early and let's go fishin' now!