Gulf of Mexico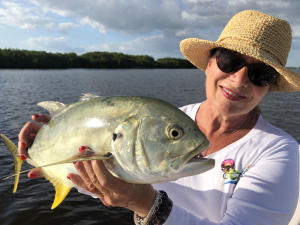 Scattered king mackerel were caught along the SW Florida coast during October, but the fall king mackerel run will crank up for real this month.  Kings ranging in size from five pound schoolies up to forty pound smokers will be caught from a few hundred yards to a few dozen miles offshore.  While these fish can be found almost anywhere, anglers are most likely to score by concentrating on areas where there are schools of bait or on areas where there is structure on the bottom. 
Don't be surprised if you catch other fish while hunting kings because bonita, sharks, blackfin tuna, huge jack crevalle and sometimes even jumbo redfish may also be found sharing the food chain with the migrating king mackerel. 
Spanish mackerel, fish that run in the one to four pound range, are smaller cousins of the king mackerel and should be thick along the coast this month with the best action usually found around the passes and inlets. 
A mix of bluefish, ladyfish and blue runners will often be found mixed with the Spanish mackerel and when this happens it can result in unbelievably hot action.  Bottom fishermen also look forward to November as the first month when significant numbers of large gag grouper begin to show up on the shallow ledges in less than 60 feet of water, negating the need to travel many miles out over the horizon in search of a fresh grouper dinner.  Sometimes the best gag action occurs within easy sight of the beach.
Charlotte Harbor
Spanish mackerel, bluefish, blue runners, ladyfish and jacks pound bait schools in the harbor during November. Surface action is easy to spot but if you need help, birds can be your best friends when it comes to finding the fish.
The lower harbor and the bars around th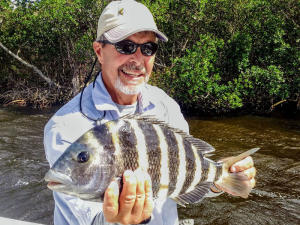 e Gulf passes are almost always active this time of year but the action can be as far inland as the I-75 bridge on the Peace River, or upriver of El Jobean on the Myakka River.  You might find a stray tarpon around the edges of the frenzies early in the month, but not for long since they are now departing for the winter. 
There is a show of flounder along the barrier islands in November and the back sides of Gasparilla Island and Cayo Costa are good, as are the edges of the inlets.  Bouncing baits along the sandy bottom in two to six feet of water where you can find a current running is a good flounder bet.  The winter sheepshead fishery is starting to come alive and there are now fairly good numbers of sheepshead appearing in the canals and around docks.  This winter fishery will get hotter and hotter as the weather gets cooler and cooler.