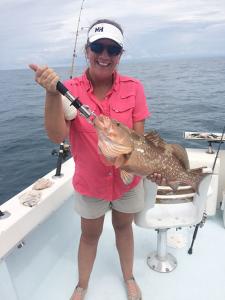 Most of the offshore action this month will be bottom fish, but there are other options too. 
Barracudas are on the wrecks, a few early-run kings will show up, and there are good sized sharks around some of the hard bottom areas. The bottom fishing is mostly for red grouper, lane snapper, vermilion snapper, porgys and grunts that are gathered on almost every slab of flat rock or hard bottom from about 60 feet of water and on further out.
Other catches this month will include some gags, and a few scamp, but most of these fish are caught in 100 feet of water or deeper. There are yellowtail snapper and mangrove snapper stacked pretty good on the taller wrecks and artificial reefs. By month's end we should start seeing the first big Spanish mackerel schools along the coast, the vanguard of the annual fall run.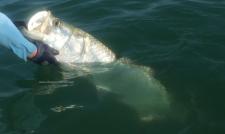 September is the last month of the year when you can count on finding tarpon before most of the adult silver kings depart for the winter. Yes, some years they stick around into October (and sometimes even later) but any large tarpon caught after the first of October are really a bonus. Look for schools of bait in the upper harbor, especially near the mouths of the Peace and Myakka Rivers and watch for tarpon rolling or feeding around the edges. 
Catch-and-release fishing for snook, redfish and trout is pretty good as all three species are showing signs of rebounding as a result of the moratorium on their harvest. Shark fishing in the lower harbor within a mile or two of the Gulf is reasonably productive and there are on-again off-again flurries of action from Spanish mackerel around the Cape Haze bar and the Bokeelia bar.