Recapture your childhood at this hidden Englewood gem.
Rick "The Catman" Kingston is on a mission: to rescue and care for special needs cats, and to find homes for those who are adoptable.
Of course, he's not the only one, but the way he supports the 200 special-needs cats in his Puffy Paws Rescue is cool, creative, and truly astonishing: he curates literally thousands of pop culture treasures in his Pop Culture Antique Museum—"in person," and through his online store and his Ebay store.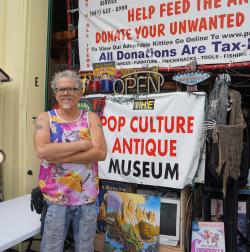 It costs $40,000 a month to support the kitties, and he's been making it work for 11 years. The rescue is not open to the public, but you can watch a live stream of the kitties, see photos, donate, read their stories, and more, at puffypawskittyhaven.org.
The museum itself is a nostalgic wonder. Everywhere you look you'll see a book, toy, collectible, doo-dad, game, or piece of art that will remind you of your formative years. You can visit the online and Ebay stores at any time, and during season, you can experience the splendor in person, on "S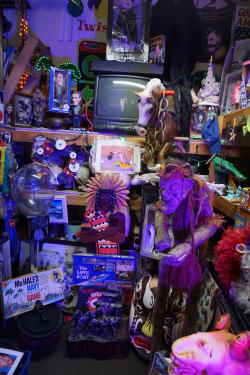 hopping Sundays" at the museum, from noon to 4:00 pm. You can also make an appointment to visit the museum during the week.
Shop to your heart's content, and if you don't see what you're looking for, just ask. Rick's Ebay store averages 2,000 items; there are thousands at the museum itself; and he's also got two other warehouses full of treasures. He's got every known video game system, tons of games, and a testing room, so you can try before you acquire.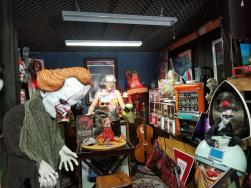 With everything, the policy is "deals, not steals." While the online stores have set amounts, at the museum itself, there are no price tags. When you see something you're interested in, ask about it. Rick will look up the fair market value and come to a happy medium donation amount that works for everyone.
Rick grew up in a real log cabin and his interest in collectibles blossomed early, when he was just 8 years old. He's been a DJ and a stand up comedian, and has had a public access TV show and an alternative newspaper. He brings all those skills and more to the table in his weekly live streams, Wednesdays, 8:00-8:30 pm, on Twitch, Facebook, and Youtube. These updates are broadcast from his own studio, which is set up as an homage to the horror film TV broadcasts from the '60s, '70s, and '80s, like Creature Features with Bob Wilkins Elvira: Mistress of the Dark, and Gregory The Grave Walker.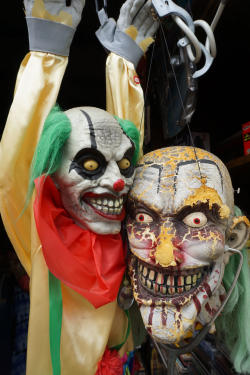 He also broadcasts from the Kitty Haven, Sundays, 10:00-10:30 pm. You can, of course, catch up on the videos on his site and his Facebook page.
The Pop Culture Antique Museum's "Shopping Sundays" and by-appointment shopping during the week will happen until the last week in April. The physical location is usually closed for one month over the summer, then opens back up for the public. Follow his Facebook page for updates.
This is an experience that's well worth a visit or ten, when you're in our area!
Pro tip from The Catman: the new LED garage lights will take the ink off packages, so don't store your mint-in-box treasures near any!