I have to ask: Is Punta Gorda a bike-friendly community?
The answer is YES!
Consider the possibilities: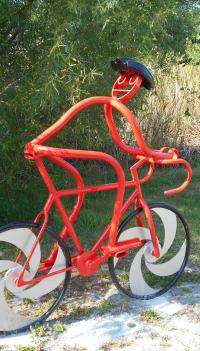 * Bring your own bicycle.
* Or borrow a bike from the TEAM Punta Gorda's Bicycle Loaner Program. All you need is a credit card.
* Ride the 18 miles of Punta Gorda Pathways that circle downtown Punta Gorda.
* Join a free Saturday morning group bicycle ride for all levels of experience. Rides start at Acme Bicycle Shop in Cross Trails Center located on southbound U.S. 41
* Sign up for popular annual bicycle events such as Wheels & Wings in July and Pedal and Play in Paradise in March. Choose the distance you want to go and benefit a good cause at the same time.
Wow! So many choices! Let's get rolling with the details:
Walking along Harborwalk one day I see clusters of bikes, often parked outside restaurants, with the TEAM Punta Gorda's Bicycle Loaner Program tags on the handlebars.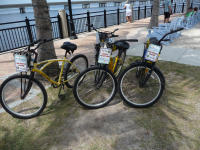 Anyone may borrow and use the free, loaner, one-speed bikes. Just show a credit card. Loaner bike locations in Punta Gorda include Bayfront Health, Laishley Municipal Marina, the Wyvern Hotel, Four Points by Sheraton, Isles Yacht Club Marina and Fishermen's Village Marina.
On a clear blue sky Sunday morning I ride Linear Park Pathway starting at Fishermen's Village. To my surprise I get a bonus.
Sundays, year round from 9 a.m. to 2 p.m. the Punta Gorda History Park Farmers and Artisans Market sets up outdoors. The History Park is on the Linear Park route. I soon found some locally made jewelry impossible to resist.
Peace River Riders Bicycle club has two free Saturday rides. The coffee is on at 8 a.m. at Acme Bicycle Shop in Cross Trails Center on Southbound U.S. 41. Riding starts at 8:30 a.m. All levels, no drop (works for me) – call Acme (941- 639-2263) to make sure the ride is on that day.
Weather permitting bicycles leave the Bicycle Center in Port Charlotte at 8:15 a.m. for a 28-mile ride described as "fun and energetic."  Call the Bicycle Center to confirm (941)-627-6600.
I like this advice from Punta Gorda City Manager Howard Kunik, who rides the Pathways and sometimes rides out to the airport:
Use the free loaner bikes, get on Pathways and explore the area.  Riding a bicycle is a great way to see the city.