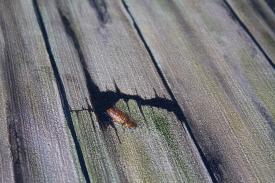 You know that relaxed, satisfied kind of tired you get after exerting yourself with an afternoon out, a fun physical activity, or a good, long walk? Prepare to experience that after the "good, long walk" and mental engagement of a Mural Walking Tour by the Punta Gorda Historic Mural Society.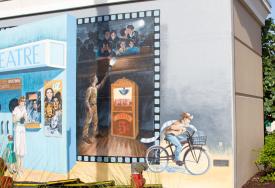 This fascinating 2-miles-in-2-hours walking and listening tour explores 11 of the 29 murals in beautiful Punta Gorda, it's more than worth the time. Tours take place every Tuesday from January through March. Tours dates for 2023 are January 18 through March 29.
The murals themselves are all beautifully painted (and maintained), but the stories behind them—both the stories they depict and the tidbits about the artists who painted them—are a main draw for many.
You will hear some fascinating stories: Teddy Roosevelt hunting for a record-breaking manta ray in Charlotte Harbor; the life of the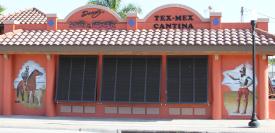 astonishing George Brown, Florida's first equal opportunity employer; Bernice Andrews Russell (in the Ladies Remembered mural) purchasing the Blanchard House in 1976, setting the stage for the museum that finally opened in 2004; the Cow Hunters driving their herd down the middle of Marion Avenue, trampling flower beds;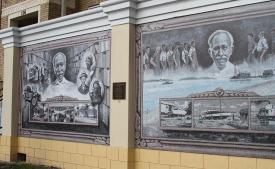 and so many more. This "Harborside Hometown" was built by some truly amazing people. Its history is full of intriguing surprises and this tour is a unique way to experience them.
The murals are, of course, very creative from inception through completion, but the placement can be creative, as well. For instance, there are three fun surprises on the bay doors of Steve's Auto Shoppe on the corner of Tamiami Trail N. and Olympia and the wall that sports "Movie Memories" was built just for the mural. 
The Society's book, Painting the Town: 25 Years of Murals, History, and the Stories Discovered Along the Way is available for purchase at Copperfish Books.
Tips and Specifics
The walking pace isn't fast, but there's a fair amount of standing while enjoying the stories, so bring your mobility aids or portable seats if you need to.

Be sure to bring some water (especially if the day is going to be warm), a hat and/or sunscreen and most definitely, a camera. 

Arrive 15 minutes early to get fitted with your portable headset. These state-of-the-art listening devices allow everyone to hear the tour guide without issue. I was truly impressed with the sound quality and the range of the sets, and they're comfortable, too!

Pick up a walking guide at the Punta Gorda Chamber or download it from the Mural Society's website, to enjoy the murals at your own page.
When visiting our area, consider taking one of these tours. Fresh air, picturesque scenery, beautiful art, and interesting historical stories are a perfect way to spend a few hours getting to know—and appreciate—more about Punta Gorda.