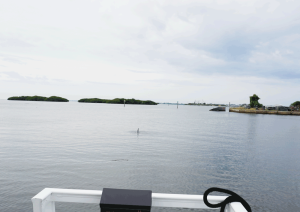 Did you know there's a population of around 800 dolphins between Lemon Bay and Charlotte Harbor? I did not, but based on the number of dolphins I saw on my Eco-History Tour and Lunch to Rum Bay Restaurant with Gasparilla Boat Tours, I believe it! (Pictures are lacking, because I was too busy watching.)
There were also tons of birds, from cormorants to pelicans, mullet jumping out of the water, and my first-ever glimpse of a manatee in the wild (exciting!). Others on the tour also saw a ray jump out of the water. I missed it, but there's always next time!
The tour itself was a leisurely ride to Palm (or "Knight") Island for lunch at Rum Bay Restaurant. Along the way, our captains kept us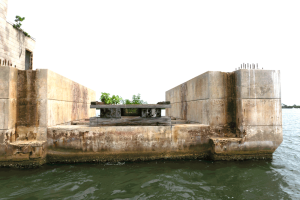 entertained with some historical tidbits and stories, but the real draw was just being out on the water, keeping an eye out for creatures, and enjoying the breeze and the views. It's a relaxing, refreshing journey.
Lunch at Rum Bay was tasty, and their gift shop is always fun to browse. There's also an ice cream shop on the ground floor, and lovely scenery and a sense of relaxation to enjoy until it's time to get back on the boat.
In addition to the Eco-History tours, they offer Sunset and Specialty cruises. Eco-History tours come in three varieties: Lunch at Rum Bay Restaurant, a Critter Cruise, and Back Bayou of Boca Grande. Sunset also comes in three flavors: Gasparilla Pass, Sunday Cruise, and Sunset with Live Music. Specialty varieties are Cabbage Key and Fun Day at a Sandbar.
I fully intend to work my way through all of them!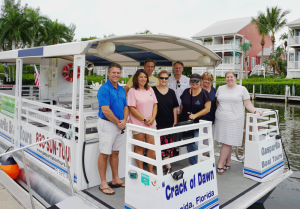 Details to help you along:            
Parking is $5 per vehicle. When you book, you'll enter the number of cars you'll be in and that is added to your total tour fee.

Food and drink—including alcohol—are always welcome aboard the boat

The boat does have a bathroom!

When you book, you'll receive an email with additional information that will help you enjoy your tour.
It's always a great time to get out on the water and explore the true natural beauty of our area, and a tour with Gasparilla Boat Tours is a perfect way to do so!