The Charlotte Harbor area has so much to offer all year round, but especially in the summer! Because the kids are out of school, summer becomes a great time for families to explore. Whether you are a local or a visitor, there are so many activities to keep families busy from the endless stretches of beautiful beaches, sunny skies and lots of family-friendly activities and places to visit. Here are a few ideas of how to stay active this summer.
Outdoor Fun
Beach Day!
A day at the beach is a great way to spend time together building sand castles, swimming, and finding seashells! A beach day is also a great way to relax for parents. Englewood Beach is known for it's thousands upon thousands of seashells. The kids will love hunting for pretty shells and all sizes of shark's teeth. It's fun to make a game of having the kids find shells with certain shapes or colors. You can also use the shells you collect to make a craft with the kids another day!
Babcock Ranch Eco Tours
We experienced a Babcock Ranch Eco Tour, and it is still one of our favorite trips since moving to southwest Florida. It is such a cool thing for families to do. You get to see all kinds of local wildlife up close and personal. Don't miss this adventure!
For kids and parents alike, the Charlotte Harbor area has so much to offer! With these ideas, there should be no "I'm bored!" comments from the kids! Have a fun and safe summer!
Play at the Park
A visit to the Playground is always a great way to keep the kids entertained and get some energy out. Charlotte County has so many amazing playgrounds!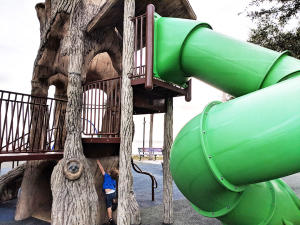 It can get pretty warm in the summer, so be sure not to go in the hotter part of the day (between noon and 4pm).  Try to go in the morning before it gets too hot or in the evening before the sun goes down. Grab some bug spray and a frisbee and have fun at the park! A few of our favorite parks are:
Tringali Park at 3460 N. Access Road in Englewood
Maracaibo Kids Space Playground at 23312 Avacado Ave. in Port Charlotte
Rotonda Park at 100 Rotonda Blvd. E. in Englewood
Bayshore Live Oak Park at 23157 Bayshore Rd. in Port Charlotte
Where to cool off
Over the past couple years, Charlotte County has added a kid's splash pool area to the Ann Dever Regional Park pool and also at the South County Regional Park Recreation Center.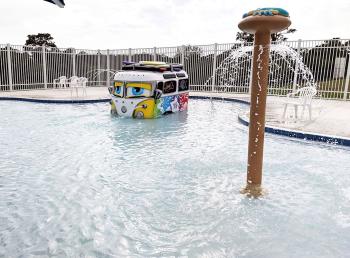 It's a lot of fun and it's so reasonable to go for the day! It's a great way to be outside in southwest Florida in the summer and not get overheated. The kid's pool area is zero entry with splashing areas and a slide. You are also welcome to bring food and drinks, so pack a lunch!
Enjoy a day at the ball park!
There are many games to enjoy at the Charlotte Stone Crabs stadium through the beginning of September.  They have continuous family-friendly events and a playground inside the park. Kids of all ages will have a ball watching the Tampa Bay Rays' minor league baseball team.
Things to do on a Rainy Day
We all know that summer means big rain storms that move in and out of the area quickly. Although it's great for our grass and plants, it can sometimes ruin our outdoor plans. So here are a few things to do in Charlotte County on a rainy day.
Kidstar
Kidstar Park in Port Charlotte is such a fun place for kids! It's a big, indoor play place and arcade. What a blast! The only thing to remember is that they are only open Friday-Sunday. They also have free wifi so parents can get some work done or check your email while the kids play!
Charlotte County Library Programs
If you have toddlers, the library is always a great option! Our favorite library in Charlotte County is Mid County Regional Library. They have a wonderful children's section with toys and books galore! They also have a Lego wall which my kids think is amazing!
The libraries also offer lots of fun programs all summer long for the kids. Click here for a list of events happening this summer at Charlotte County libraries.
For kids and parents alike, the Charlotte Harbor area has so much to offer! With these ideas, there should be no "I'm bored!" comments from the kids! Have a fun and safe summer!