It's that time of year again when the weather is just about perfect for a day at the beach in beautiful Punta Gorda/Englewood Beach, Florida. It's not too hot, and the water is warm, comfortable, and refreshing. Truly, our beaches are ready. But, are you ready for them? Too many families make the mistake of rushing to get their toes in the sand without preparing for a great day at the beach. And we're talking about more than making sure to apply sunscreen before your hands get all sandy (unless you want a free dermabrasion). Don't just be sure you're ready, but be shore ready, be beach ready, and be ready to have a wonderful day among our gorgeous outdoors. These are six ways to make sure your family is ready for the beaches of the Charlotte Harbor Gulf Island Coast.
1. Don't be Fool, Remember Your Tools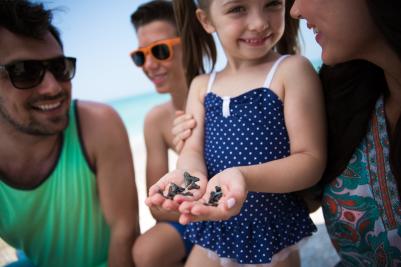 The beaches of Punta Gorda/Englewood Beach offer a number of different experiences. Skimboarding, snorkeling, building sandcastles, looking for shells, or just lounging on the sand catching some rays. However, one activity our visitors love above all others is hunting for fossilized shark teeth. Millions of years ago, sharks of all sizes and species swam these waters. Today, all that is left to remember them are fossilized shark teeth ranging from the size of a grain of sand to larger than your palm. But, let's be real, you'll mostly find teeth about the size of a quarter. So, how do you find these teeth? Well, you could spot them on the surface, but the best ones will take a little digging. To do that you need the right tools, and by tools we mean toys. Plastic shovels, plastic buckets, and plastic sieves make it easy to dig and sift through the sand to find shark teeth worth bringing home. So, before you hit the beach without any of your toys (which doesn't sound like fun), bring along the right tools to make sure you take home the perfect souvenir. And if you need anything else, see the Beach Guy at Englewood Beach to rent chairs, umbrellas, and more.
2. Phone Safety is in the bag
While you're at the beach with your incredible family, you'll probably want to snap a few pics. These beach photos will help you remember your outstanding vacation in Punta Gorda/Englewood Beach for years to come, but mostly you'll want to post them online to make your friends jealous. Now, back in the stone age, we used to take pictures with these things called personal cameras. But, assuming you're not 100 years old or a former film developer, you'll likely take pictures on your phone and will want to do everything possible to protect your device.
You could buy a waterproof/sand-proof/airtight case for your phone, but let's pretend you're not a billionaire (or someone who just thinks they are). Like most things, the simplest answer is usually the best…and the cheapest. Grab yourself a Ziploc bag (or generic brand) and place your phone, case and all, into it. Seal it closed (shouldn't have to mention that), and voila. Take pics, post online, use the PureFlorida.com mobile site to check out where you should go next, and play music all without getting your phone wet or sandy. Also, and this can't be stressed enough, don't put your phone in salt water no matter how waterproof it is. Don't submerge your bagged phone either, but definitely don't dunk your phone into the Gulf of Mexico.
3. Picture Perfect Beach Family
Speaking of taking beach photos, a little understanding of lighting will make yours really pop. Improve your beach pics by simply making sure the sun is behind the camera. So, if you're taking a picture of someone, make sure the sun is behind you. If you're taking a selfie, make sure the sun is in front of you. Any other way and your subjects (that's your friends or family) will be harder to see and practically unrecognizable (unless that's what you're going for). Oh, and make sure to take your pics horizontally (sideways) instead of vertically (like how you'd normally use a phone) and we guarantee they'll come out better.
Also, if you're posting pics on Instagram, please tag us @RealPureFlorida and include the hashtag #BestSideOutside to let everyone know where you're having this amazing beach day.
4. Make Your Place in the Sun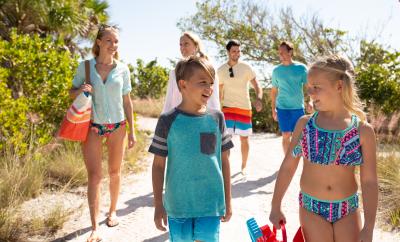 We think our beaches have some of the most beautiful sand found in the entire world. While we're sure that you'll love our sand as much as we do, we don't think it will look quite as nice in your purses, coolers, shoes, bags, and totes. But, how do you keep sand out of all your stuff at the beach? Well, there's a simple and easy way to help. Stretch out a fitted bed sheet, topside down, on your favorite stretch of beach, and use your coolers and bags in the corners to secure it, creating a sand-free zone. Keep the sand out of your bags and shoes, and make sure the only thing you take away from the beach is happy memories (and maybe some shark teeth).
5. Swimmer's Ear is Nothing to Fear
If you're daydreaming about a beach vacation, it's safe to say you have water on your mind. However, no one wants water in their ears, especially long after you've left the beach. Also known as swimmer's ear, water left in your ear canal can cause all sorts of problems, including not being able to hear people compliment your lovely tan. Luckily, we have two tips that are sure to be...music to your ears. First, this tip couldn't be easier, just don't blow it. Bring along a deflated balloon and once you're all done with splashing in the beautiful Gulf of Mexico waves, blow up the balloon. As you gently inflate the balloon with your mouth, the water will slowly and safely trickle out of your ears and provide a spine-tingling sensation that feels so weird yet so right at the same time. The second method takes a little bit of prep work, but it's really the end-all, be-all of remedies. Create a solution of half Isopropyl alcohol (rubbing alcohol) and half white vinegar. The alcohol evaporates the water while the vinegar prevents bacteria from growing. Tilt your head to the side, put three or four drops of the solution into the ear, wait about 30 seconds, and then tilt your head to the other side to allow the solution to drain out. Not matter what you choose, both these tips…sound good to us.
6. Ditch the Sand, Baby
That's right, another tip about keeping the sand away. Look, if you go to the beach, you're going to get sandy, and all the fitted sheets and knocking your shoes together in the world won't save you. When you come out of the water, dripping wet, that dry, warm sand will stick to your legs, your feet, and everywhere else (everywhere). Then, it's stuck in your shoes, your car, your room, your bed, and your life. Well, don't be a baby about it. Bring along a little travel-size bottle of baby powder and when it's time to say goodbye to the beach (we know, we're sad too) just sprinkle some powder on your sandy feet, legs, and anywhere else, and wipe the sand right off without any problems.
We hope these tips will get you and your family ready to experience the outstanding beaches of Punta Gorda/Englewood Beach. Here, our best side is outside, and after spending a few minutes on the beach you'll see why. We also offer incredible opportunities for kayaking, paddleboarding, fishing, boating, waterfront dining, hiking, birding, biking, golf, and much more. This is the quintessential Florida outdoor experience, and we can't wait to welcome you. #BestSideOutside #WeAreBeachReady