There are many ways—and several days—to celebrate Independence Day in Punta Gorda/Englewood Beach!
July 3
4:30 pm: Charlotte Stone Crabs July 3rd Celebration Don't miss the biggest fireworks show of the season! Also featuring helicopter candy drop! Jul. 3; gates open at 4:30 pm; Charlotte Sports Park, 2300 El Jobean Rd., Port Charlotte.
July 4 and Beyond
10:00 am—5:00 pm: Military Heritage Museum's 4th of July Celebration Featuring Google Expedition: American Revolution through the Eyes of Alexander Hamilton and free flag for all youth visitors. Featured Documentary: Liberty's Kids Episode 13 - The First Fourth of July at noon.Arts and crafts: patriotic-themed arts and crafts for ages 2 and above. Aircraft Simulators: U.S. Air Force Thunderbirds favorite – F16 Fighting Falcon, Virtual Reality: Visit the Valley Forge National Park, and Patriotic Cornhole Contest, Feature Film: The Patriot, 2:00 pm. Note: rated R - disturbing war images. Note new location: 900 W. Marion Ave., Punta Gorda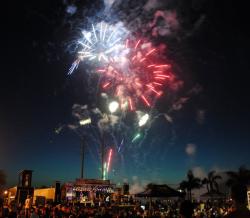 11:00 am—9:30 pm: FourthFest 2019 in Laishley Park Featuring Water-Mania, a group of 12 giant waterslides, as well as a Kid's fun Zone! Vendors, displays, and unique shopping opportunities and plenty of fun festival food, cold beer and beverages will complement the live music. The Charlotte High School NJROTC will present the colors at 5 pm with the National Anthem. The Boogiemen Rock n Soul Revue begins at 5:30 pm and Nashville recording artist and Punta Gorda Native Jack-Michael will perform at 7:30 pm. The best fireworks display in all of Southwest Florida presented by the Famous Santore Brothers of Garden State Fireworks will start promptly at 9:00pm, shot over the beautiful Peace River. $3 admission; purchase unlimited daily use of the Waterslides for only $10. 120 Laishley Ct., Punta Gorda. 
11:00 am—10:00 pm: 26th 4th of July Celebration at Harpoon Harry's, the official "finish line" of the Freedom Swim! Free swag from featured brewery: Coppertail as well as festive drink specials all day and $4 wells and wines. Live music all day from Kim & Jamie Duo, Austin Tyler, and Chameleon Band.  5:45—8:45 pm, kid's crafts, face painting, arcade games, and more! Harpoon Harry's at Fishermen's Village, 1200 W. Retta Esplanade, Punta Gorda.
11:00 am—10:00 pm: 4th of July BBQ Bash at Hurricane Charley's Awesome food plus daily menu available. Music with The Kollections 6:00—10:00 pm. 300 W. Retta Esplanade, Punta Gorda.
Noon—9:00 pm: July 4th Celebration at Fishermen's Village features singer Rita Beach near Good 'Ole Days Coffee, noon—4 pm and in Center Court, singer/musician John Patti, noon—4 pm and singers Adam Mac and Paul Cottrell (The Stray Dogs), 5—9 pm. Freedom Swim kicks off at 2 pm (swim ends at Harpoon Harry's). Enjoy the music, shopping, dining, and the viewing of fireworks display over Charlotte Harbor at 9 pm! 1200 W. Retta Esplanade, Punta Gorda.
1:00 pm—12:30 am: Dean's 4th of July Party Special 4th menu along with our daily menus and the BEST live music in Punta Gorda, featuring Mixed Up Duo 1:00—5:00 pm and Gas House Gorillas 8:30 pm—12:30 am. 130 Tamiami Tr., Punta Gorda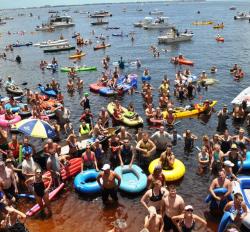 2:00 pm: 2019 Freedom Swim Hundreds of people will be swimming, paddling, and floating across the harbor, either starting from Gilchrist Park (parking access) or from the traditional starting point (boat-only access). Gilchrist Park: 400 W. Retta Esplanade, Punta Gorda
4:00—10:00 pm: Proud to be an American at White Rabbit Saloon Best Red, White and Blue or Most Patriotic outfit wins a free beer! Food from 4—6 pm, hamburgers and hot dogs on the grill, and everyone is welcome to bring a Dish. DJ Sweet will be rockin' The Rabbit all day. 8282 Wiltshire Dr., Port Charlotte.
5:00 pm: BBQ and Patriotic Singalong at Joe Maxx Coffee Put on your red, white, and blue, grab a flag, and join in singing some of our country's best-loved patriotic songs! All are welcome! Grills will be fired up at 4:30 pm and singing begins at 8:00 pm outside of the Joe Maxx coffee shop Seating is limited, so consider bringing your own chair. Song lyrics will be provided. Enjoy the fireworks at 9:00 pm. Set list: America the Beautiful, You're a Grand Old Flag, Yankee Doodle Dandy (the one written by George m Cohan, not the kiddie song), America aka My country 'Tis of Thee, God Bless America,
This is My Country, Star Spangled Banner. 450 West Dearborn Street Englewood.
6:00—10:00 pm: 22N at The Sandbar Join the all out dance party! 1975 Beach Rd., Englewood
6:00—11:00 pm: 4th of July Celebration at Snook's Bayside Enjoy the fireworks on Lemon Bay on the 4th of July with the best seat ever. Tables and chairs will be set up in the parking lot. Admission is $5 for adults and kids are free. No need to bring tables or chairs we are going to have them for you. Food and drinks will be sold. 779 W. Wentworth St., Englewood
6:00—11:00 pm: Perch 360 Fireworks Viewing Party The greatest view in Punta Gorda! Limited 4th of July menu, cocktails, and cold beer! Limited space available, purchase tickets at: Perch360.com. 101 E. Retta Esplanade, Punta Gorda.
6:00 pm: TT's (The Tiki) Bar's 4th of July Weekend Party will feature live music from Iconic, Jul. 4, 6—10:30 pm; Midnight Mama, Jul. 5, 7  11 pm; Deven Starr, Jul. 6, 5—8 pm, and Maiden Cane, Jul. 6, 8—10 pm. 33 Tamiami Tr., Punta Gorda.
July 6, noon—3:00 pm: Bert's Red, White & Rumble Featuring Cowboy Kid Rock Tribute Celebration, free patriot daiquiri bar and endless supply of icy cold beer, sexy Bikini Bike Wash, and All-American Cookout Lunch for charity! 2224 El Jobean Rd., Port Charlotte.