Beach Getaway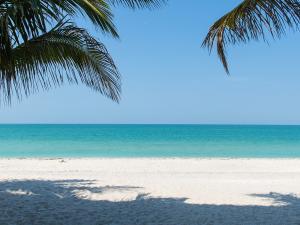 Fossilized shark teeth are favorite finds of beach-walkers. These shiny, black, triangle-shaped fossils, along with an abundance of seashells of all sizes, shapes, and colors, can be found on the beaches of Manasota Key: Englewood Beach and Blind Pass Beach, as well as on all the beaches near Englewood: Knight Island, Don Pedro Island, Little Gasparilla Island and Stump Pass Beach State Park. On Stump Pass Beach, the driftwood looks almost sculptural, and it's said that if you place a shell (find one with a hole) on the branch of a stump and make a wish, it will come true. Let us know if yours does!
Palm Island (also known as Knight Island) is just a stone's throw from the mainland but feels a world apart. Set on a dazzling, broad expanse of beach, the island offers both private home and condo rentals. Palm Island Resort, at the northern tip of the island, also offers activities for children and adults.
Those longing for a more Zen-like experience will love Don Pedro Island State Park. This slice of paradise is only accessible by boat and feels far away from the cares of everyday life. You're likely to encounter only a few other people on the beach, and sometimes you may have the beach all to yourself. The island offers restrooms, a covered picnic area, outdoor showers and grills, and a nature trail. 
Sometimes you just need to go where nobody knows your name and "quiet" is the word of the day. Little Gasparilla Island, where golf carts rule the road and which is also only accessible by boat, is just the place for quiet. It's also a shell collector's dream. The white sand beaches are never crowded and lead to blue-green waters where you will often see dolphins frolic.
For a nice treat, get away to one of our beautiful beaches.
Find accommodations and dining options near the beaches:
Little Gasparilla/Knight/Don Pedro islands

Little Gasparilla/Knight/Don Pedro islands