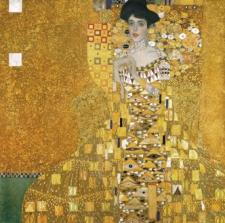 Lunch: noon–12:45 pm
Lecture: 12:45–2:00 pm
Cost: VAC Member: $24; non-member: $30
One Friday each month features an entertaining lunch and lecture series on Art History with Baila Miller. Baila Miller's Fine Arts programs are high-quality fun lectures that explore the role of paintings, sculpture, photography and many other areas of the arts in the development of modern culture. Registration is open on our website! Come for all 5 parts in the series, or select the ones that interest you:
Friday, October 12, 2018 – Louis Comfort Tiffany: Glass Master Extraordinaire
Friday, November 9, 2018 – Georgia O'Keeffe
Friday, January 18, 2019 – Gustav Klimt: A Golden Era
Friday, February 1, 2019 – Understanding the Importance of Abstract Art
Friday, March 15, 2019 – Ballets Russes: Diaghilev, Nijinsky, Stravinsky, etc.