Begins Airing Jan. 19, 2016: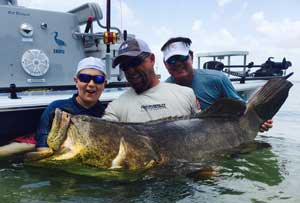 Last summer Drake, a fatherless teen from the Tampa Bay area, was selected by the Majesty Outdoors Foundation as a TideChanger to embark on a one-of-a-kind outdoor adventure to fish for monsters in the waters of Charlotte Harbor. In addition to the memories of landing the catch of a lifetime, Drake received a college scholarship from the Majesty Outdoors Foundation. The heartwarming experience starring Drake will air on Episode 4, Season 7, of Majesty Outdoors Television,  which begins airing Jan. 19 at 9:30 a.m. on the Pursuit Channel.  
Under the mentorship of Majesty Outdoors host Bill Blodgett and Englewood fishing guide Capt. Chris O'Neill, Drake fishes for goliath grouper, which can weigh up to 700 pounds. Since 1990, harvesting and possessing goliath grouper in state and federal waters off Florida has been prohibited.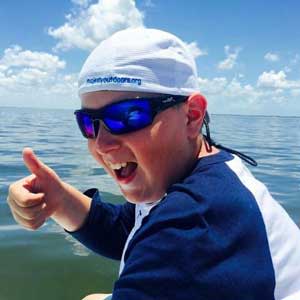 The Majesty Outdoors Foundation is a 501-c(3) non-profit working to bring awareness to the fatherless epidemic and enact change by offering fatherless teens hope, faith and the beauty of the great outdoors through providing maiden outdoors adventures. Through its mentoring program, the foundation has impacted the lives of more than 3,000 fatherless children. Since Majesty Outdoors Television's inception in 2009, nearly 75 teenagers have appeared on the show and all are eligible for college scholarships.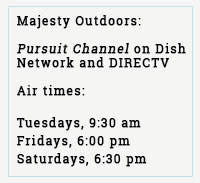 Capt. Betty Staugler, a Charlotte County Florida Sea Grant Agent, also appears in the half-hour show which features some of Charlotte Harbor's beautiful scenery and exhilarating world-class fishing in Boca Grande Pass. The episode was filmed on Manasota Key in July and includes the Weston's wannaB inn, which served as the headquarter accommodations during filming.  
In addition to operating his fishing guide service, Tail Chaser Charter Services, Capt. Chris O'Neill is the co-host of Southwest Florida's only live-from-the-water fishing show, the Reel Saltwater Outdoors Radio Show, and volunteers with various military and youth organizations.
Click for additional information about Majesty Outdoors including information about nominating a teen to star on Majesty Outdoors Television