Article reprinted courtesy Mangrove Chapter of the Florida Native Plant Society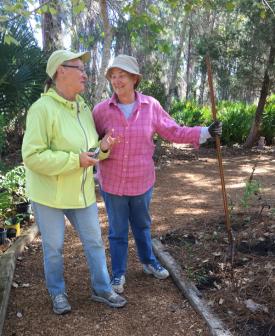 The Mangrove Chapter of the Florida Native Plant Society hosted their annual Plant Native Day at Cedar Point Environmental Park in Englewood on March 11, 2017. The theme was "Fire-Wise Landscaping," emphasizing plants with lo- and hi-flammability. Hi-flammability plants, such as evergreens and wax myrtle should not be planted within 100 ft of a building. Saw palmetto is a common hi-flammability plant in the pine flatwoods habitat of our area. Instead, ground covers and lo-flammability plants should be used to create a defensible space or buffer zone of at least 30 feet from your residence.
Laurel Schiller, owner of Florida Native Plants and Nursery in Sarasota, is a "regular" at Plant Native Day and arrived early to set up her beautiful array of native plants to sell. This year attendees had the opportunity to hear her presentation on ground covers and lo-flammability plants for along the edges of buildings. She also spoke about the care and maintenance of those plantings. Rick Christman from the Florida Department of Forestry interrupted a busy schedule to stop by to discuss "Firewise Communities."
The Peace River Butterfly Society brought a fascinating display of Monarch butterflies in various stages of development: caterpillars munching milkweed leaves, jade-like chrysalises, and newly-emerged butterflies stretching and drying their wings. 
Carol Leonard, from the Friends of the Englewood Archives (FoEA), was on hand to talk about a fundraiser supporting the preservation of our local historical resources. 
The Garden-keepers of Cedar Point's demonstration garden were on hand to answer questions about bird and butterfly attractants, growth habits of various native plants, soil and light requirements, and drought and salt tolerance.  As usual, attendees were eager and curious to learn about the many native plants growing in the vicinity. 
The demonstration garden is in tip-top shape due to the "Keepers" weekly diligence and persistence in the face of lots of shade, densely rooted soil, and lack of rain. The paths throughout the garden are carefully mulched and delineated with landscape logs. Plants are labeled, well-established and thriving.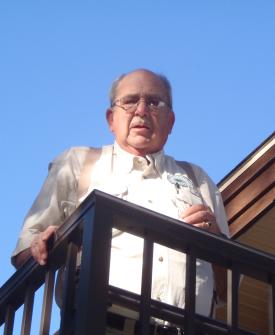 Bobbi Rodgers, CHEC Environmental Resources Manager at Cedar Point led a walk on the Big Pine Trail to the site of a recent wildfire that covered about an acre of pine scrub and was fortunately contained by the local fire department. Participants had the opportunity to learn about the benefits of prescribed burns.
A common concern of gardeners for the past several months has been the lack of rain. The scant rainfall has quickly soaked into the ground, barely dampening the sandy soil.  What moisture is left is quickly caught up by the sun and wind. The ground is crackling dry. Walk over a pine needle-covered path and you can feel and hear how very dry the land is. Water is at a premium at a time like this and the fragility of our ecosystem becomes ever more apparent. Dry land and winds combine to create a precarious situation. Fire-Safe Landscaping becomes ever more relevant to the safety of our homes and surrounding ecology.
Simple details to keep in mind when planting:
Find out if the plants you want are lo- or hi-flammability
Keep hi-flammability plants at least 100 ft from your house or building
Use a non-flammable mulch along the edge of your house
Keep shrubs and trees trimmed
A lively exchange grew between presenters and visitors and everyone enjoyed the delicious refreshments. The Mangrove Chapter wants to thank all those who contributed their time and energy to make the day a great success.
We all hope you will join us again next spring for Plant Native Day to meet The Garden Keepers, Laurel Schiller, Bobbi Rodgers, and the Peace River Butterfly people and to walk the trails at Cedar Point.