PUNTA GORDA/ENGLEWOOD BEACH, Fla. (Nov. 10, 2020) – Sean Walter has joined the Punta Gorda/Englewood Beach Visitor & Convention Bureau as Sales/Sports Business Development Director. He will work in retaining and bringing meetings and group business and sporting events to Charlotte County.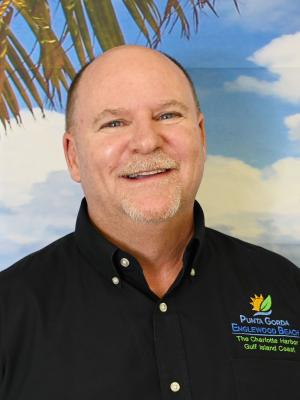 Walter has an extensive background in tourism operations, sales, and marketing and began his career with the Walt Disney World Company. Most recently, he served as Sports Director and Senior Manager of the Bradenton Area Convention and Visitors Bureau where he oversaw leisure, group, and meetings sales; the Bradenton Area Film Commission; the Bradenton Area Sports Commission; the Bradenton Area Convention Center; and the Premier Sports Campus, a 23 field multi-purpose sports complex. His experience includes working with national and international governing bodies, collegiate and professional organizations, and youth associations for trainings and tournaments.
"I am excited to be part of this team and look forward to marketing and selling all the wonderful assets Charlotte County has to offer visitors," said Sean Walter, Sales/Sports Business Development Director for the Punta Gorda/Englewood Beach Visitor & Convention Bureau.
The Punta Gorda/Englewood Beach VCB is the Tourism Department for Charlotte County Government. Its mission is to brand, market, and sell Charlotte County as Florida's premier ecotourism, leisure, sports, and meeting and conference destination for the continual economic benefit of the community. Charlotte County collects a 5% tourist development tax on accommodation stays six months or less, in addition to the 7% sales tax. The first 3% is spent for tourism promotion and marketing while the fourth and fifth percent are used to fund debt services on the bond for renovations at the Charlotte Sports Park.
Information on Punta Gorda/Englewood Beach is available at PureFlorida.com. For additional information, call 941-743-1900.
###