ATLANTA, Ga. (July 17, 2018)- The Punta Gorda/Englewood Beach Visitor & Convention Bureau is pleased to announce Julie Pennock and Brynja Phipps joined more than three hundred tourism industry professionals from across the United States, at Southeast Tourism Society's (STS) 27th Annual Marketing College. Ms. Pennock is the Bureau's marketing coordinator and Ms. Phipps is the project coordinator.

STS Marketing College is a professional development program that, for one week each year, turns the facilities at University of North Georgia (UNG) in Dahlonega, Ga., into specialized classrooms to teach travel marketing. Record enrollment for the three-year program was 320 this year which ran June 24-29. The program began in 1992. Today, more than 1,000 travel and tourism professionals have completed the full curriculum and earned certification as a Travel Marketing Professional (TMP).

"Tourism is one of the leaders in job creation and has a positive economic impact on its communities," said Bill Hardman, president and chief executive officer of STS. "At the same time, tourism is ever-evolving, and thus STS Marketing College was created as way to keep travel and tourism professionals ahead of industry trends."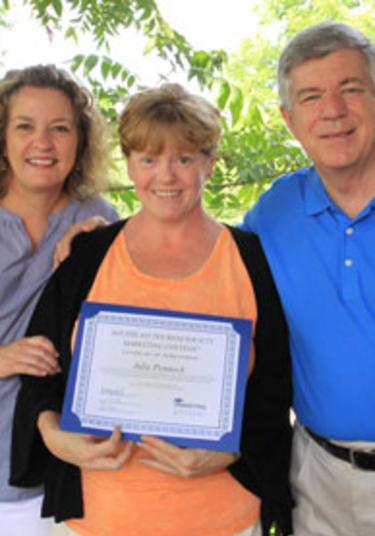 Julie Pennock, Marketing Coordinator for the
Students come from numerous industry sectors such as convention and visitor bureaus, chambers of commerce, attractions and hotels. In conjunction with the tourism marketing curriculum, alumni classes, and a festivals and events track, are also offered. Course topics include digital marketing, media relations, customer service, tourism advertising, vacation research, and crisis management.

"Our curriculum is practical and evolves with the attendee. Whether you've been in the industry for 30 days or 30 years, everyone walks away with new ideas and best practices for their destination," Hardman said. "The knowledge gained at STS Marketing College can truly be applied anywhere. We have more than 1,000 graduates, throughout the United States, that can confirm the positive impact this program had on their career, in addition to their destination, as well as the friendships made."

Annually, the Punta Gorda/Englewood Beach Visitor & Convention Bureau conducts marketing, sales and promotional campaigns to increase awareness of and visitation to Charlotte County, Fla. In addition to generating economic contributions, the Punta Gorda/Englewood Beach Visitor & Convention Bureau is also focused on developing soft adventure or ecotourism, a low-impact industry enabling the county to preserve the invaluable natural resources that contribute to its ecological health, distinguish the area and draw visitors. During calendar year 2017, Charlotte County welcomed an estimated 422,500 visitors, tourism generated an estimated $380,841,400 in direct expenditures, and made an estimated $580,783,200 million economic impact.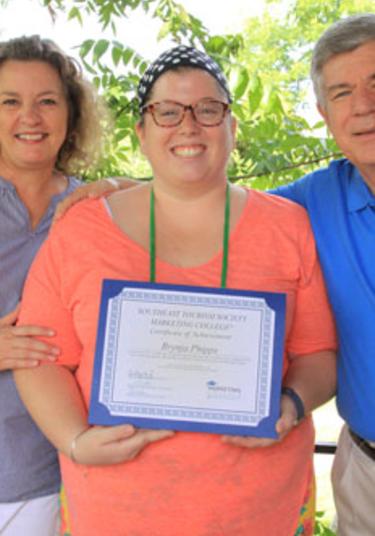 Brynja Phipps, Project Coordinator for the
ABOUT SOUTHEAST TOURISM SOCIETY (STS)
Founded in 1983, the Southeast Tourism Society (southeasttourism.org) is dedicated to promoting and developing tourism to and within its 12 member states of Alabama, Arkansas, Florida, Georgia, Kentucky, Louisiana, Mississippi, North Carolina, South Carolina, Tennessee, Virginia and West Virginia.

PUNTA GORDA / ENGLEWOOD BEACH
Located halfway between Tampa and Naples on the Southwest Florida Gulf Coast, Punta Gorda /Englewood Beach is a charming collection of nine coastal communities surrounding the state's second largest harbor. Florida's premier year-round eco-tourism destination, the area offers a pristine unspoiled beauty. In 2014, Port Charlotte was named the top "U.S. Best Value Destination" by Trivago (the world's largest online hotel search site), and the Charlotte Sports Park, spring training home of the Tampa Bay Rays, was voted "Best Spring Training Facility" by readers of USA TODAY. A haven for outdoor enthusiasts, Punta Gorda / Englewood Beach has been named one of SAIL magazine's "10 Greatest Places to Sail in the United States," ranked by Golf Digest as "Third Best Place to Live and Play Golf in America," and rated by MONEY magazine as one of the "Best Places to Live in the South." Englewood was named second of the Top Ten emerging travel destinations in the U.S. by TripAdvisor.com. The area is served by five airports: The Punta Gorda Airport (PGD) with private and charter air service, Sarasota Bradenton International Airport (SRQ), Southwest Florida International Airport, Ft. Myers, (RSW), St. Petersburg-Clearwater International Airport (PIE) and Tampa International Airport (TPA). For more information on visiting Punta Gorda / Englewood Beach visit http://PureFlorida.com or call1-800-652-6090.