Courtesy Sea Grape Gallery
Sea Grape Gallery's Artists of Month for January 2019
From January 10 to February 7, 2019 Sea Grape Gallery will be featuring two of their artists, Beverly Yankwitt, mixed media artist, and Lise Lindsay, glass artist.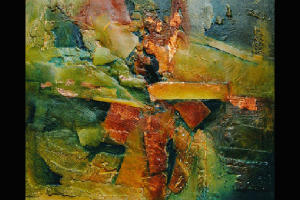 Beverly Yankwitt and her family lived in West Virginia where she worked in the medical technology area.  Upon moving to Charlotte County, Florida in 1985, she continued working in the medical industry until she obtained a license as a Financial Advisor and began working in the financial sector.  During this time, Beverly did not have much time to focus on pursuing her true love of art.  Now retired, Beverly works in oils and mixed media but especially enjoys working and teaching the art of producing abstract art.  As Bev believes "experimental abstract art is the most unique, original expression an artist can render".  Her artwork has been accepted in many juried shows where she has won numerous awards. Beverly is a Signature Member of the International Society of Experimental Artists and is an active member of several art society organizations.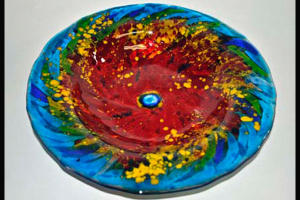 Lise Lindsay majored in Fine Arts at college but realized early on that, based on the times, it would be more profitable for her future to go for degrees in computer science and accounting. Even while working in this field, she had dreams of one day being able to focus much of her time on art.  Now retired from the business world, Lise's passion is working with glass. As Lise explains, "I love its color, reflection, dimension, and the challenge of working with heat and glass. Varying temperatures, thicknesses, and reactive qualities of glass can produce spectacular results". Her creativity is evident in the beautiful fused glass pieces that she creates.  While primarily self-taught, Lise has studied with many well-known glass artists.  As she has learned, the world of glass is ever-changing and provides her many opportunities to express her creativity with color and light. Lise's abstract glass panels and functional glass art are lovely to see and add beautiful additions to every household.
Many of Beverly's beautiful abstract paintings and Lise's colorful fused glass pieces are prominently on display at the Sea Grape Gallery. In addition, more of their art and the artworks of all Sea Grape artists can be viewed at seagrapegallery.com.
Sea Grape Gallery is celebrating their 30-year Anniversary in 2018.  The Gallery has been awarded the Punta Gorda Chamber of Commerce's Special Recognition Award and has consistently won the Charlotte Sun Newspaper's Readers' Choice Award for Best Art Gallery.  Come visit the Gallery and its many talented award-winning artists who are on hand to welcome and assist visitors.
Sea Grape Gallery is located at 113 W. Marion Avenue, Punta Gorda and can be reached at 941-575-1718.  The Gallery is always open until 8 p.m. during downtown Punta Gorda's "Third Thursday Wine Walk."