Courtesy Sea Grape Artists Gallery 
Sea Grape Gallery's Artists of Month for February 2019
From February 7 to March 7, 2019 Sea Grape Gallery will be featuring two of their artists, Barbara Albin, contemporary watercolorist, and Sam Harris, custom hand carved knife designer.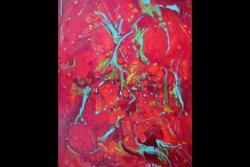 Barb Albin has loved art since a very young age. Living in Illinois and attending college there, she sold her first two paintings to Northern Illinois University during her freshman year. After moving to Florida, Barb has truly immersed herself in the art world by becoming a member of many local art organizations in Southwest Florida. She has taught watercolor painting, juried many art shows, presented at art workshops, and has been in over 400 Juried and Invitational Shows herself. Water and the natural beauty of Florida inspires Barb to create art that captures the magical colors of the area which is so evident in her artwork. As Barb explains, "I love splashing paint unto a canvas and see where it leads me". Barb's paintings are in several permanent college collections, a county government center, and in many private and corporate collections across the country.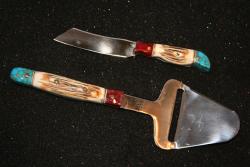 Sam Harris graduated college with a degree in biology and chemistry. Ever since a young age, he had an interest in the construction of knives and the materials that were used in their construction. During his time spent in the service of our country, he was exposed to many different edged weapons and tools. After retiring from a career as a commercial airline pilot, he decided to focus on designing knives as an art form – not just to be used as a household tool. Sam uses bone, ebony and many semi-precious materials in all types of artistic knives including hunting knives, kitchen knives, folding knives, carving sets, and beautiful letter openers. All the knife blades are stainless steel as well as some high carbon and Damascus steel. As Sam has said "all my work is designed to be used, not merely set aside to be looked at". Sam's knives are with owners in the U.S., Chile, Ireland, England, France, Germany and Norway.
Many of Barb's beautiful paintings and Sam's creative knives and accessories are prominently on display at the Sea Grape Gallery. In addition, more of their art and the artworks of all Sea Grape artists can be viewed at seagrapegallery.com.
Sea Grape Gallery is celebrating their 30-year Anniversary in 2018. The Gallery has been awarded the Punta Gorda Chamber of Commerce's Special Recognition Award and has consistently won the Charlotte Sun Newspaper's Readers' Choice Award for Best Art Gallery. Come visit the Gallery and its many talented award-winning artists who are on hand to welcome and assist visitors.
Sea Grape Gallery is located at 113 W. Marion Avenue, Punta Gorda and can be reached at 941-575-1718. The Gallery is always open until 8 p.m. during downtown Punta Gorda's "Third Thursday Wine Walk.?