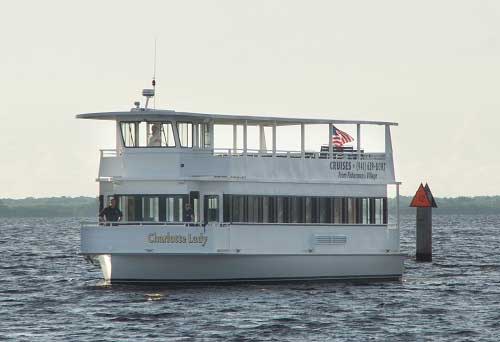 King Fisher Fleet recently added Charlotte Lady to their fleet. A bit about her: 
Charlotte Lady is a custom- built excursion boat that is the newest addition to King Fisher Fleet at Fishermen's Village. At 62 feet in length and with a capacity of 125 passengers "Charlotte Lady" is the largest
passenger boat in the area. She was designed and built by Scarano Shipbuilding in Albany, New York under the supervision of the U.S. Coast Guard. Upon her completion in August she embarked on a two-week delivery cruise which took her down the east coast including portions of the Delaware Bay, the Chesapeake Bay and much of the Intracoastal Waterway. She then crossed Florida via the Okeechobee Waterway on the way to her new home in Punta Gorda. 
King Fisher Fleet's Capt. Ralph Allen says: "We're incredibly excited about the arrival of our new vessel. In the 30-plus years that King Fisher Fleet has been in the passenger boat business, this is the nicest boat we've ever commissioned and we think that our guests will love riding on her. She's a double-decker with a canopy overhead. The main deck is equipped with two heads and a bar, and her oversized cabin windows will be great for sightseeing. Her John Deere diesel engines are quiet and environmentally friendly. The interior is carpeted and beautifully finished in cherrywood, almost more like a yacht than a tour boat."
Charlotte Lady may be new to Punta Gorda, but water transportation is not. In the early days of Punta Gorda, long before divided highways or even paved roads, boats were the preferred mode of transportation here. This is evidenced by the seal of the City of Punta Gorda, which since 1924 has incorporated a depiction of a passenger vessel sailing our palm-lined shores. "Charlotte Lady" will continue this century-long tradition by offering day-long island cruises, harbor and river rides, sunset cruises and special events such as fireworks viewing and Christmas canal cruises. She will also be available for hire for special events including parties, weddings and business meetings.
Vessel Particulars:
Overall Length 62' Beam 18' Draft 48" Displacement 46 gross tons, 37 net tons
Engines: Twin John Deere 6068SFM85 rated 250hp each, EPA Tier III environmental rating
Cruising speed 10 knots Passenger Capacity 125, plus three crew
Fuel Capacity 600 gallons Fresh water tank 200 gallons