Courtesy Lemon Bay Conservancy
Wildflower Butterfly Habitat
Almost every Mon day throughout the year, a small volunteer team meets to work in the Butterfly Habitat at Wildflower Preserve.  Over time, they've created a remarkable transformation.  A barren field, strewn with debris from the demolition of the old Wildflower Golf Course clubhouse has become a butterfly haven that attracts a variety of fluttering beauties to feed and lay their eggs.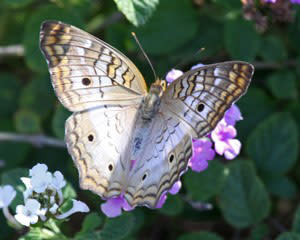 LBC members and donors are invited to stop by this season to enjoy the flowers and butterflies in the habitat.  It's located at 3120 Gasparilla Pines Blvd, Englewood 34224.  Park in the parking spaces near the road, outside the construction fence.
"Let's Make It Right!" Special Campaign for Wildflower – Only One Week Remains for our Matching Donation Funding
The butterfly area reminds us of the wonderful benefits of restoring habitats at Wildflower.  But, as you know from previous emails, our major habitat restoration project at the preserve is currently on hold while we work to define and address arsenic soil contamination issues at the site. The initial estimate for soil and water testing is $35,000 to $50,000, so you can see that donations are greatly needed!
We have one week left until Giving Tuesday and the deadline for our special dollar-for-dollar matching challenge campaign for Wildflower.  As noted in our last email, we have $4,000 in matching grant dollars that are only available until November 27th.  If you haven't already done so, please consider a special donation!  You can donate online from our website at LemonBayConservancy.org/make-it-right or by calling the office at 941-830-8922. 
LBC Fall Newsletter
Our 2018 Fall Newsletter is now available online on our website at:  LemonBayConservancy.org/fall-2018-newsletter.  It includes articles on our 2018 LBC STEM scholarship winner, volunteer profiles, Toast to the Coast news, a schedule of upcoming walks and special events, Good Growth Management,  Actions for Clean Water and more.