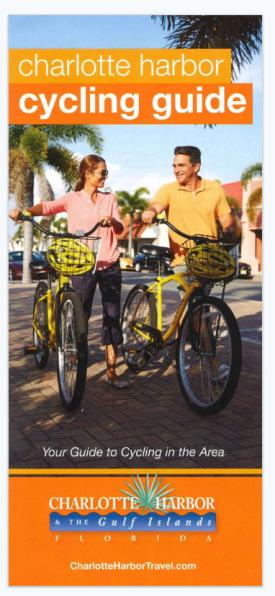 Charlotte County has several beautiful trail options to pedal, now featured in the new Charlotte Harbor Cycling Guide.
User-friendly for recreational bicyclists and everyday cyclists, the cycling guide was published by the Charlotte Harbor Visitor & Convention Bureau, with input and assistance from members of the local bicycling community and funded in part by a grant from VISIT FLORIDA, the state's official tourism marketing agency.
Charlotte County is the location of the nearly 8-mile Cape Haze Pioneer Trail, a rails-to-trails conversion which runs between Englewood and Placida. It follows the former rail corridor of the Charlotte Harbor & Northern Railroad which once moved people, livestock, crops and phosphate.
The City of Punta Gorda is home to Florida's first free bicycle loaner program, which is maintained by TEAM Punta Gorda, an all-volunteer organization. The City offers the 18-mile Punta Gorda Pathways, a system of bicycle and pedestrian trails as well as four marked street bicycle routes ranging in distance of 17 to 31 miles. This Southwest Florida community has been recognized as a "Florida Bike-Friendly Community" by the Florida Bicycle Association. 
The full-color guide includes a map, highlighted cycling routes and area resources of interest to cyclists.  
Visitors can obtain a guide by calling 1-800-652-6090 or by visiting the Charlotte Harbor Visitor & Convention Bureau, at 18500 Murdock Circle, Room B-104, Port Charlotte. The office is open Monday through Friday, from 8:00 am to 5:00 pm.
Download an image of the Charlotte County Cycling Guide.
Get your supply at the Charlotte Harbor Visitor & Convention Center, 18500 Murdock Circle, Suite B104, Port Charlotte, 33948 or call 941-743-1900.