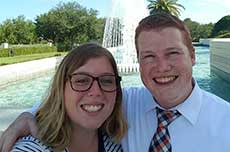 Hello, my name is Brynja (Bry) Phipps. I am excited to be the newest member of the Punta Gorda/Englewood Beach Visitor & Convention Bureau team!
I was born and raised in Charlotte County, and growing up in Port Charlotte instilled a love for the ocean and the outdoors. While studying at Brigham Young University-Idaho I decided I wanted to be able to share my love of Marine Science and Conservation with others and found I could best do that through Visual Media. I earned a Bachelor's degree focused on

Organismic Biology and Visual Communications, in hopes of coming back to Florida and working with the public in some aspect.
Most weekends my husband, Treven, and I are looking for a new experience; the world of Florida is new to him. I particularly enjoy if it involves snorkeling, kayaking, painting or photography. Our most recent enterprise was rescuing a mischievous, one-year-old bunny we named Moo.
I am happy to be back in Charlotte County and looking forward to this new adventure in the Tourism Development Bureau.