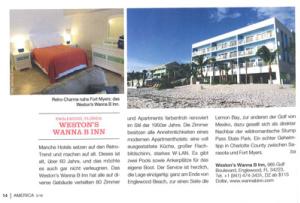 Weston's Wanna B Inn is featured very favorably in American Journal, a contemporary, inspiring, go-to magazine for German-speaking travelers planning trips to the U.S., focusing on practical travel information and trip planning.

The magazine's circulation is 38,500.
This article is a direct result of the Charlotte Harbor Visitor & Convention Bureau hosting travel journalist Holger Jacobs and his stay at the Wanna B, in September, 2015.
Click image for larger view.