Little Gasparilla Island will shine in the national spotlight when HGTV's Island Life airs two episodes featuring the Southwest Florida barrier island and Realtor Sue Paskert of Palermo Real Estate Professionals. The initial episode, titled "A Couple Sells a Business to Move to a Secluded Home on Little Gasparilla Island," will air at 8:30 p.m. on Dec. 20. Air date of the second episode has not been announced.  
An HGTV crew spent two weeks in July on Little Gasparilla Island shooting two episodes for the second season of the popular series. They worked with Realtor Sue Paskert, Palermo Real Estate Professionals, who will be featured in both episodes. The initial episode follows Mike and Carina Connolly from Las Vegas as Ms. Paskert helps them search for a full-time residence on the island.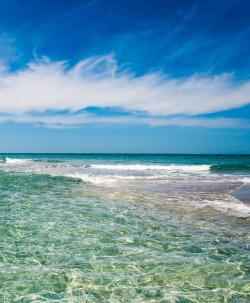 Island Life producers reached out to Ms. Paskert in April after reviewing her extensive online presence and her website, www.suepaskert.com.  During an interview through Skype, she fielded questions about Little Gasparilla Island while producers checked her stage presence. The couple featured in the episode were clients of Ms. Paskert's and they went through the same vetting process. 
The Charlotte County Film Office assisted the show producer with providing film footage of the area and local contacts. The crew of eight spent two weeks at Hideaway Bay Beach Condominiums on Little Gasparilla Island. 
There are no paved roads on Little Gasparilla Island and no bridge or public ferry to the island. The barrier island is accessible by water taxi and personal watercraft. The sandy paths that form the roads are barely wide enough for two golf carts to pass. 
To expedite filming, the production company hired a barge and brought two SUVs packed with equipment to the island. Island residents, referred to as islanders, provided them with the use of golf carts. They were packing a tight shooting schedule into two weeks, and getting around the island quickly was imperative. Additional filming was done at Don Pedro Island State Park, which is adjacent to Little Gasparilla to the north, and off-island, including a mainland restaurant.  
In the television industry, reality TV has a number of sub-categories. For example, shows about buying beachfront property, or living on an island, are in a category called fantasy destination programming.
About the series, HGTV says "Most people only fantasize about living on an island, but we'll prove that an Island Life is possible for anyone. Tropical dreamers will be shown island properties that fit into any budget, from ultra-affordable to totally outrageous. We'll follow everyday families in search of their own slice of paradise, and prove that fantasy can be reality."
Ms. Paskert previously appeared in one episode of Beachfront Bargain Hunt, another HGTV fantasy destination program that also filmed on Little Gasparilla Island two years ago. Ms. Paskert knows the island well; she and her husband George have had a residence on Little Gasparilla Island since 1988. 
The HGTV appearance "really validated who we were and what we were doing on Little Gasparilla Island," Ms. Paskert said, "I think all Islanders benefitted from the experience.
"I don't know what to expect from Island Life. I'm very curious to see what comes up," she said.  "But I have to believe it'll have the same positive results as Beachfront Bargain Hunt."