Thank you to our partners who helped a visiting journalist with Golf Magazine China have a memorable visit.

The Blue Turtle
Four Points by Sheraton Punta Gorda Harborside
Peace River Botanical & Sculpture Gardens
Village Fish Market

*****
Photo Shoot
Last month, the Punta Gorda/Englewood Beach Visitor & Convention Bureau with coordination from its creative agency, Aqua Marketing & Communications, conducted a photo shoot for fresh images to be used in digital and print advertising.
Kudos to the following partners for their assistance.:
Terry Covert at Babcock Ranch Eco Tours
Rev. Bill Klossner at Peace River Botanical and Sculpture Gardens 
Debbie Hanson with Shefishes2.com at Babcock Webb/Webb Lake 
Mike Burton at Riverwood Golf Club
Ranger Rand at Don Pedro Island State Park/Florida State Parks
Paige Bakhaus, Brian Bakhaus, and Dawn Calvert Rothenhoefer at Hooked on SUP
Tod Sullivan with Freedom Boat Club SWFL 
Capt. Ralph Allen, Capt. John Daines, Capt. Rickey Duet at King Fisher Fleet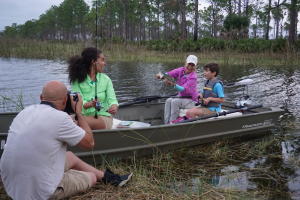 Freshwater fishing guide Debbie Hanson of SheFishes2.com shows off a bass she caught at Webb Lake during the photo shoot. Photographer Pedro Castellano captures the excitement of the moment with the 2 models.