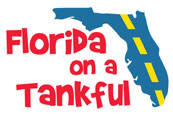 TEAM Punta Gorda's free bicycle loan program, Harborwalk Scoops & Bites and Peace River Seafood were recently featured on separate travel segments for "Florida on a Tankful" which airs on Bay News 9 and Central Florida 13.
Thank you to Mitchell Austin with the City of Punta Gorda for his assistance in making the segments happen with on air personality Scott Fais.
Read about the segments on Peace River Seafood here and the free bicycle loan program and Harborwalk Scoops & Bites here.