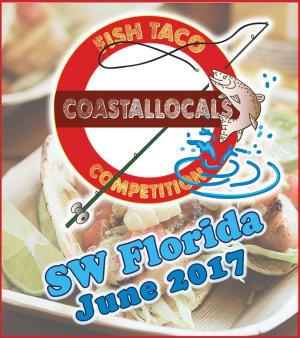 Local South West Florida residents will soon get the low down! 
Coastal Locals is seeking restaurants, pubs and food trucks who think they got what it takes to win the 1st Annual Fish Taco Frenzy Competition. Four vetted food judges will visit each establishment through out the month of June, 2017 to evaluate and decide! Plaques will be given to first, second and third place winners. The public will be invited to celebrate at a grand fish taco tasting event at the first place winner's establishment.
What a fun concept! Follow along on the Coastal Locals Facebook page at Facebook.com/groups/CoastalLocals as the judges post their findings and pictures and post on their own social media pages and blogs. All restaurants will be listed  there too and will be included in a full article in Lee Herald and Naples Herald.
How to enter. Call 239-240-8100 or email Shana Overhulser at Shana@pageonegraphics.com. The fee is only $36 to enter the competition but, Florida Restaurant and Lodging Association members enter for FREE.
This time – we're out for fin! 
DATE: June 1 to June 30, 2017!
LOCATIONS: Collier County, Lee County and Charlotte County.
CONTACT: 239-240-8100, Shana@pageonegraphics.com