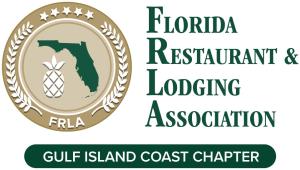 It's Official! Charlotte County will have a new hospitality chapter of the Florida Restaurant and Lodging Association (FRLA) called the "Gulf Island Coast Chapter."  This chapter will represent the counties of Charlotte and Glades. 
Previously, Charlotte County was included in the Southwest Chapter of the FRLA which represented the counties of Collier, Lee, Glades and Charlotte.  To better address the needs of its membership, the Southwest Chapter of the FRLA was dissolved to reduce the geographical area in an effort encourage participation and to create smaller chapter networks.
On October 12 the FRLA Board of Directors voted to approve the dissolution of the Southwest Chapter of FRLA and to create three new entities: the Gulf Island Coast Chapter of FRLA representing Charlotte and Glades counties, Lee Chapter representing Lee County, and Paradise Coast Chapter representing Collier County. 
FRLA Regional Director Lois Croft worked closely with industry leaders in Collier, Lee and Charlotte counties to help build three new chapters.  Croft is one of FRLA's 10 regional directors and managers who represent 26 chapters across the state.
The FRLA is Florida's premier non-profit hospitality industry trade association representing a wide range of restaurant, lodging and allied member partners working together to positively impact the hospitality and tourism industry. Across the state, the FRLA represents and serves more than 10,000 independent and household name members, including theme parks and attractions.
Learn more at FRLA.org. For membership information, contact Lois Croft, FRLA Regional Director at LCroft@FRLA.org or 239-339-7692.