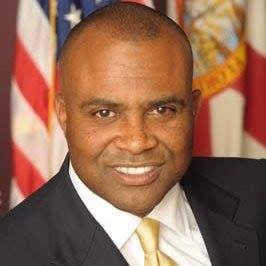 The Florida Restaurant and Lodging Association (FRLA) would like to introduce you to VISIT FLORIDA's new President & CEO, Ken Lawson.

Ken, who was the unanimous selection of the VISIT FLORIDA Board of Directors, assumed his new role earlier this year. A native Floridian and former U.S. Marine Corps Judge Advocate General, he has spent 12 years serving and protecting the public in numerous regulatory positions, including his most recent work overseeing — among other divisions — restaurants, hotels and vacation rentals with the Florida Department of Business & Professional Regulation (DBPR). During his six-year tenure with them, he managed a team of 1,600 employees charged with licensing and regulating more than 1 million businesses and professionals throughout the state.

In a message to the industry, Ken outlined his plan for the near term: "In the days to come, I will be meeting with each of my new staff individually to hear their ideas for moving forward successfully. I will be personally reviewing all aspects of the day-to-day operations of this great organization to ensure we are fully accountable to the governor, a Legislature and the taxpayers of Florida in all our endeavors.

"In the weeks and months ahead, I will be traveling the state to meet with our industry partners to better understand what they need from VISIT FLORIDA. Since my appointment as CEO, I have been walking the halls of the Florida capitol to speak directly with legislators about the vital role VISIT FLORIDA plays in growing the state's economy by increasing tourism revenue."

He concluded by stating, "VISIT FLORIDA and the entire Florida tourism industry has a great deal to be proud of with five years of record visitation, visitor spending, and tourism-related employment. I want to work closely with you all to take that unprecedented growth to the next level. I value the input and expertise of our industry leaders and partners, and would be happy to hear from you at klawson@visitflorida.org."

Carol Dover, President and CEO of the FRLA and a member of the VISIT FLORIDA Board of Directors, said, "Ken will be a tremendous asset to VISIT FLORIDA and ensures the organization will be well-positioned to continue to play a key role in promoting the state to visitors around the globe. VISIT FLORIDA needs a CEO with his impeccable capabilities and a strong sense of responsibility to the public sector, and I am honored and privileged that he has agreed to take this significant leadership role."