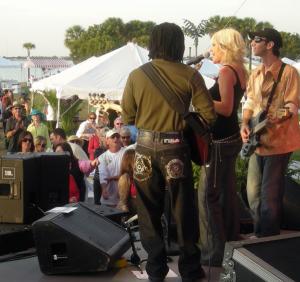 Your events are what make the Charlotte Harbor area so special, and it's easier than ever to promote them on our website with the updated Extranet. All Charlotte Harbor-area tourism-related businesses are strongly encouraged to use this tool; it's an easy and free way to get your events seen and attended.

After September 30, 2016, only those events entered onto the website by individual businesses and organizers will be included in the This Week's Happenings newsletter, which reaches over 700 people each week and has a steadily increasing audience.

If your recurring event (live music every weekend, paint parties, farmers market, etc.,) is already on the site, you don't need to do anything different. However, the more information you give the public, the better. For example, if your establishment offers live music, you're likely already listed as a live music venue in the Happenings (make sure, here), but listing the details on the CharlotteHarborTravel.com site gives you--and the bands you showcase--more exposure and a better chance to attract an audience.
Very soon, the Bureau will employ technology that grabs events from Facebook for inclusion in This Week's Happenings. If you don't already use Facebook events to promote your offerings, now is the time to start!
Just a reminder: this free advertising is viewed over 2,000 times per week during season, and well over 1,000 times per week in the off-season. The Weekly Events download page was accessed over 23,000 times in the last year, and the audience is steadily increasing.
The Charlotte Harbor Visitor & Convention Bureau is always here to help and answer questions: call 941.743.1900 or email Julie.Pennock@CharlotteCountyFL.gov for assistance in accessing and using the Extranet.