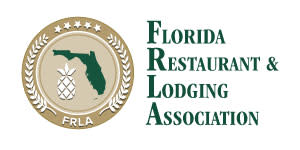 The Florida Restaurant and Lodging Association (FRLA) has been one of the strongest advocates for the tourism industry in the halls of the state legislature. The lodging industry's ability to curtail attempts to weaken the governing statute for TDT uses was due in large part to the efforts of FRLA. If you aren't a member, I strongly urge you to join. There are many benefits to membership.
If you are an FRLA member, you and two of your staff can attend the Association's three-day Restaurant and Lodging Show, which features the latest technology, food trends, lodging innovations and much more. That alone is worth your membership.
More important, however, is the critical work FRLA does on behalf of its members. They keep a constant watch on legislation that affects restaurants and accommodations or impacts tourism in any substantive way. And that, is priceless. Only in the absence of that type of advocacy and action will we know how much FRLA means to each of us.
Lorah Steiner
Director of Tourism
Charlotte County
18500 Murdock Circle, B104
Port Charlotte, FL  33948
(941)  743-1900
PureFlorida.com
Register for the 2017 Restaurant and Lodging Show