Courtesy Carolyn Gregsak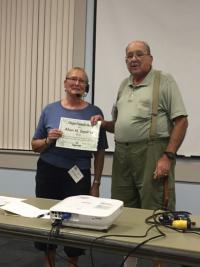 Al Squires received the Chapter President's Award at the January 9th meeting of the FNPS Mangrove Chapter held at Lemon Bay Park in Englewood.
Al was recognized for a decade of service from 2007-2017 as President, Vice-President, Chapter Representative, and Field Trip Coordinator.
He is pictured here with current Chapter President, Lois Cantwell.
Photo by CA Gregsak
*****
Feb 10, A Busy Day for Mangrove Chapter, FNPS
The Mangrove Chapter of the Florida Native Plant Society will be represented at the upcoming Open House at Wildflower Preserve on February 10. Lois Cantwell, the Mangrove Chapter president, will be on hand with plenty of valuable information about native plants, their use in landscapes and their benefits to birds and butterflies. Posters and literature will be on display and plants will be for sale.
Four Mangrove Chapter members, who also lead walks for the Lemon Bay Conservancy at Wildflower Preserve, will be leading walks during the program. Susy d'Hont and Nancy Clayton both have Birding Walks at 8 AM; Charlie Woodruff leads Nature Walks at 8:30 AM, 10 AM and 1 PM; and Dave Clayton will lead walks at 9 AM and noon. Walkers will learn about the ecology and various habitats at Wildflower and learn about the restoration efforts in progress. The Preserve is located at 6919 Gasparilla Pines Boulevard off Placida Rd. in Englewood. The event is free and open to the public. The parking lot offers plenty of parking.
On the same day, Al Squires past-president of the Mangrove Chapter, will represent the chapter in partnering with the Venice Area Audubon Society to offer a free workshop on Native Plants for Birds.  The workshop will demonstrate how birds are sustained by native plant gardens. Discussion will include: providing food and shelter for birds, creating small garden plots of bird-friendly plants, as well as planting small container gardens for birds.
The workshop takes place Feb. 10 from 9:30 to 12:30, at Venice Area Audubon Society on Annex Rd in Venice.  The workshop is free and open to the public, but registration is required. To register, please email annoleary9@icloud.com
*****
February 13 Meeting, Mangrove Chapter FNPS 
Kate Borduas
"The Role of Cooperation in Evolution"
Kate came to us from Maine, part-time, in 2003, and has been in the area, now full-time, since 2012. In Maine, Kate was involved in local and regional politics, where she worked as an environmental activist. She has served as the President of the Greater Portland, Maine Council of Governments.  
Kate is an active member in local, regional and national Audubon organizations. She led the Venice Golf and Country Club (VGCC) Audubon International Bio-blitz team to winning two back-to-back global biodiversity challenges. The Bio-blitz is a species-counting competition designed to create awareness among golfers and the general public about the environmental value of the habitats supported by golf courses.
As a Florida Master Naturalist and Certified Interpretive Guide, she leads birding and wildflower walks throughout Charlotte and Sarasota County. She is an active member in both the Mangrove Chapter of the Florida Native Plant Society and the Peace River Butterfly Society. Kate says she is still trying to get back to Maine, but with her schedule as it is, I think we can count on her being around Southwest Florida for awhile. 
This year, our February meeting comes just a day before Denny Girard's birthday. With a birthday on the 14th of February and his outstanding contributions to the knowledge, identification, and preservation of the natural world of the Gulf coast of Southwest Florida, Denny has always been our Special Valentine. 
Denny is a long-time member of the Mangrove Chapter of FNPS and, along with Marianne Owen and Al Squires, one of the original Cedar Point Trail Guides. Denny built the early trails at Cedar Point Environmental Park in Englewood and a trail at Cedar Point is named after him and his late wife, Pat. Prior to the construction of the main building, he and Al Squires worked Security at the Park. Bobbi Rodgers, the current director at Cedar Point, says: "Denny was everything here."
Denny has been a SW Florida resident for more than 50 years and his nature photography is well known to area enthusiasts. He was a major contributor to the University of South Florida (USF) Flower Atlas, which includes all Southwest Florida flowers found in the wild, including garden escapees. The Atlas can be viewed on the USF website. Denny has published two collections of poetry, as well as stories and articles in local newspapers. 
Please join us for a pleasant evening of birthday wishes, a slice or two of birthday cake, and Kate's informative and thought-provoking presentation.
Mangrove Chapter meetings are held at Lemon Bay Park, 570 Bay Park Blvd. in Englewood, Florida with speakers beginning at 7:00 p.m. Doors open at 6 pm.
*****
FNPS Mangrove Chapter February 2018 Field Trip
Yucca Pens Wildlife Management Area, Zemel Rd., Punta Gorda Florida
The Mangrove Chapter of the Florida Native Plant Society invites the public to join in a nature walk at 9 am on Saturday,  February 24, 2018. We will be exploring an extension of the Babcock/Webb Wildlife Management Area called YUCCA PENS, a marsh area rich in wildlife and native flowers. Yucca Pens is located west of US 41 on Zemel Rd.  There is an admission fee of $3 for persons under 65 years old.  
DIRECTIONS:  From Punta Gorda, take US 41 south for approximately 6 miles to Zemel Rd. Yucca Pens is located on the right side of Zemel Rd. Walkers will meet in the parking lot. Directions are also available on the Mangrove Chapter website: mangrove.fnpschapter.org. For more information you may contact Trail Guide, Al Squires at 941-769-3633 or email him at ahsquires1@comcast.net
We encourage Floridians and our winter visitors to learn more about the importance of Florida's native plants and communities by becoming a member of the Mangrove Chapter of the Florida Native Plant Society. The Florida Native Plant Society promotes the preservation, conservation, and restoration of the native plants and native plant communities of Florida. Meetings, field trips and special events are free and open to the public.
*****
We encourage Floridians and our winter visitors to learn more about the importance of Florida's native plants and communities by becoming a member of the Mangrove Chapter of the Florida Native Plant Society.