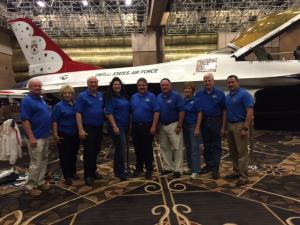 The Florida International Air Show (FIAS) organization is a Florida "not for profit" corporation and staffed entirely by volunteers.
The mission is to present a yearly Air Show that is focused on wholesome family entertainment that is educational to all attendees in the areas of aviation and space. They strive to present a forum for military and civilian flight demonstrations, to create a friendly environment for military recruiting, to involve community support to the maximum and give favorable exposure to the Punta Gorda Airport as a major local economic asset.
Monies in excess of the yearly Air Show requirement are distributed to local working charities, which directly support the Show. To date, the Air Show has distributed $2.9 million to southwest Florida working charities.
In preparation for the 2016 return of the Air Show, members of the Florida International Air Show Board of Directors attended the ICAS (International Council of Air Shows) Conference in Las Vegas, Nevada.
Pictured from left to right: Jerry Crady, Sue Crady, Dana Carr, Jennifer Smith, Tyler Ezzi, Mike Dallenbach, Pam Brown, Sam Sanders, and Ray Laroche. Board members that were unable to attend include Bucky McQueen and Ricki Markle.
New Board Members Dana Carr and Jennifer Smith attended the comprehensive three day training program consisting of Air Shows 101: Air/Ground Operations Training Seminar and Air Shows 102: Air Show Business Basic.

"I was impressed with the high level of professionalism while a bit overwhelmed with the complexity of all the behind the scene details that go in to creating an Air Show." – Dana Carr

The next Air Show is scheduled for October 21-23, 2016 at the Punta Gorda Airport (KPGD).

"This is a new chapter for the Florida International Air Show. While standing on the shoulders of 35 years of Air Show success, the overwhelming community support to bring back the Florida International Air Show is greatly appreciated." – Tyler Ezzi, Air Show Chairman.

Friends of the Air Show and sponsorship opportunities are now available. Visit the Florida International Air Show Facebook page and website www.floridaairshow.com for further information on this event including acts and show details.
As a Florida International Airshow Insider, you get:
Airshow Performer Announcements & Features - BEFORE They Go Public
First Dibs & Access to Special "Insider ONLY" Offers and Discounts
The insider details about the performers
CONTACT:
Dana Carr
Florida International Air Show Communications Director
941.639.7855