FOR IMMEDIATE RELEASE
August 30, 2017
Contact: Nick Gandy (850) 488-1422 or ngandy@flasports.com
City of Plantation Parks and Recreation Department and Charlotte County Community Services Department win Excellence in Sport Tourism Awards
ORLANDO - Sport and Recreation is a major contributor to Florida's economy with activities providing over $57 billion in total economic output, creating over 580,000 jobs and attracting nearly 16 million non-resident visitors to Florida.  The contributions of Florida's county and municipal Parks & Recreation Departments to Sport Tourism provide the maintenance and infrastructure to support numerous annual sporting and recreational activities throughout the state of Florida.
The Florida Sports Foundation presented the Fourth Annual Excellence in Sport Tourism Mid to Large Sport Market Award to the City of Plantation Parks and Recreation Department and the Small Sport Market Award to the Charlotte County Community Services Department at the Annual Florida Recreation and Parks Association Conference in Orlando.
"The two award winning departments have done an outstanding job of using their local resources and innovative strategies to bring out-of-state visitors to their areas for sports opportunities," said Florida Sports Foundation Angela Suggs.  "Their efforts not only benefit their communities with economic benefits, but the entire state of Florida.  Once the athletes and their families see all Florida has to offer, they will return to discover more opportunities."
The Small Sport Market Award winner, the Charlotte County Community Services Department, nominated by Punta Gorda/Englewood Beach Visitor & Convention Bureau (VCB), has been a vital partner in the success of the VCB's sport tourism mission.  Since April of 2016, Charlotte County Parks and Recreation facilities have served as the host venues for over 75% of sports tourism events supported and hosted by the Punta Gorda/Englewood Beach VCB.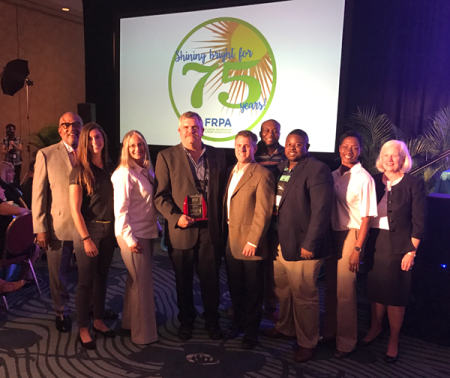 The department oversees over 65 parks throughout Charlotte County and manages the maintenance and operations of 10 heavily utilized, year round athletic parks and facilities to accommodate local leagues, community events and sport tourism events/tournaments. These annual events include the Snowbird Baseball Classic, the Charlotte Harbor Regatta and the Tampa Bay Rays Spring Training. 
Under the direction of Tommy Scott, Director of Community Services, the department has upgraded many of the facilities to elevate opportunities to host more high level events.  The Charlotte Sports Park recently received $27 million in upgrades to better accommodate the Tampa Bay Rays for Spring Training and the Florida State League's Charlotte Stone Crabs. The park is a vital component in attracting youth baseball tournaments and NCAA Division I teams to the Snowbird Baseball Classic.
The department added another collegiate level baseball field at In North Charlotte Regional Park and other upgrades including college level scoreboards, expanded dugouts, upgraded batting cages and improved lighting and sound. 
The renewal of a local one cent sales tax has allowed Community Services to propose several facility enhancements over the next few years including a new 30,000 sq. ft. gymnasium with dedicated Pickleball courts, multi-purpose fields and a 50-meter pool.  Improvements are also scheduled for Ann Dever Memorial Park at Oyster Creek, Harold Avenue Park and Port Charlotte Beach Park. 
Over the past year, Charlotte County Community Services hosted 16 events in eight different sports, in partnership with the VCB.  The events were held at 10 different facilities managed by the department, generating over 21,000 hotel room nights for an estimated direct economic impact of $22 million.
Charlotte County Award Photo ID  - Left to right: Chester Pruitt, President FRPA; Amanda Capone, Florida Sports Foundation; Michelle Long, Charlotte County Community Services; Mike Koenig, Charlotte County Community Services; Sean Dougherty, Punta Gorda/Englewood Beach VCB; Michael Washington, Florida Sports Foundation; Dennis Edwards, Charlotte County Community Services; Angela Suggs, President Florida Sports Foundation and Joan Byrne, FRPA President Elect.
The Florida Sports Foundation, the state's lead sports promotion and development organization, works in conjunction with Florida's 28 local sports commissions to bring more than 3,200 sports events and $57 billion in economic impact annually to the State.  For more information about the Florida Sports Foundation and its programs, visit www.flasports.com.

101 North Monroe Street
Suite 1000
Tallahassee, FL 32301
Direct: 850.488.1422
Fax. 850.922.0482