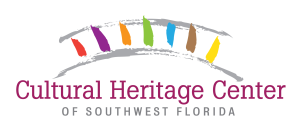 Mission:
The Mission of the Cultural Heritage Center is to promote, inform, explore and celebrate the multi-ethnic,
diverse nature of Southwest Florida through educational programs, outreach efforts and celebrations of culture.  We are developing a plan for a permanent facility which would allow for the programming noted later in this newsletter.
Ethnic, religious and affiliate groups that form the core advisory board for the Cultural Heritage Center include but are not limited to: African Americans, Ukrainians, Indians, Latinos, Irish, Slovaks, Haitians, Jews, Native Americans, Germans, Greeks, Filipinos.
Partners:
Community partners include: 
    TEAM Punta Gorda
    Punta Gorda/Englewood Beach Visitor and Convention Bureau
    Blanchard House Museum
    Florida Gulf Coast University at Herald Court Square
Vision and Process:
The ethnic and religious diversity of Southwest Florida has made it a rich and exciting place to live and visit.  
Recently, several groups from Charlotte, Lee, Desoto and Sarasota counties came together to create a plan for a Cultural Heritage Center that would celebrate their contributions to the development and economy of this region.  Several meetings, facilitated by Nancy Johnson, Executive Director of TEAM Punta Gorda were held to develop a detailed action plan.
To date, the following ethnic, religious and affiliate groups are involved: African American, East Indian, Latino, Irish, Slovak, Haitian, Jewish, Native American, German, and Filipino.
Proposed Programming:
Proposed programming includes but not limited to:
              Inclusionary multi-faceted, rotating exhibits
              Annual Cultural Heritage Festival
              Cooking classes 
              Language classes
              Cultural/language immersion classes
              Summer language/culture camps for children and teens
              Cultural lending library
              Art exhibits
              Partnership with Rotary Exchange Programs
              Ethnic Food Festivals
Organization:
    A business plan and budget are in progress
    The Board of Directors has been constituted
    Grants and other funding sources are being identified
    501(c)3 incorporation filing is underway
    The CHC has begun distributing a monthly newsletter
    A Facebook page has been established
    A domain name has been purchased
Contact:
Cultural Heritage Center of Southwest Florida
117 Herald Court, #211, Punta Gorda, FL 33950
941.505.0130
CulturalHeritageSWFL.com (coming soon)
Facebook.com/CulturalHeritageSWFL