In order to get the word out that Charlotte County beaches, harbor and inter-coastal waterways are clear, The VCB is asking all partners to post pictures of the beach, the harbor, kayaking, etc., on social media and on your websites.  Be sure to indicate the date the picture was taken and tag your posts with the location, e.g.: #PuntaGorda; #EnglewoodBeach; #PortCharlotte; #KnightIsland; #PalmIslandResort, etc.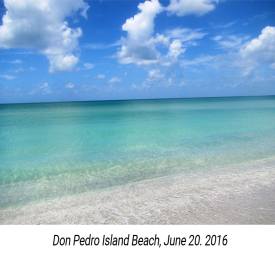 The national press continues to talk about the state of emergency "in Florida" and blue-green algae in "Florida's coastal waters;" the Florida Dept. of Environmental Protection has even created a site for reporting algal blooms and suggesting technology that may help resolve them: reportalgalbloom.com. 
Unfortunately, this broad-brush approach to reporting gives people the impression that ALL Florida coastal waters are clogged with algae, which is clearly not the case. 

Please post as much as possible. The VCB will be sharing some of your posts through our social media channels.