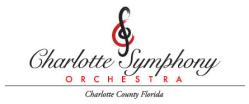 The Charlotte Symphony Orchestra is pleased to announce its new partnership with the Military Heritage Museum, as we celebrate a Salute to Our Armed Forces! 
 
The Military Heritage Museum, located at Fishermen's Village in Punta Gorda, showcases military history from the Civil War to the present. They use donated military artifacts to tell the stories of our community's veterans as they emphasize that freedom is not free.
 
We are excited about this partnership as we show the public that two seemingly different venues actually have so much in common. We educate and entertain our guests, as well as provide them trips down memory lane.
 
Concertgoers will enjoy music selections that include the melodies of each branch of the military and inspiring American compositions including Persichetti's A Lincoln Address, Harris' Epilogue to JFK's Profiles in Courage, Copland's open-air homage An Outdoor Adventure.  John Williams' Suite from JFK, Hymn to the Fallen and Summon the Heroes, as well as other perennial favorites.
 
The theater will feature military memorabilia and a preconcert dessert reception for the Symphony's season ticket holders to honor the veteran patrons.  A preconcert reception will take place in the lobby prior to the concert.
 
The orchestra's 2017-2018 concert season begins with "A Salute to Our Armed Forces" on November 12th at the Charlotte Performing Arts Center, 701 Carmalita St., in Punta Gorda.  For more information about the orchestra or to order tickets for the 2017-2018 season, access www.charlottesymphony.org, or call 941-205-5996.
Contact:
Devorah Kermisch
941-205-5996