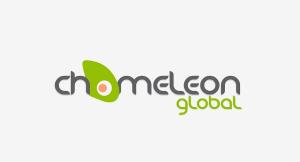 Chameleon Global is continuing to build its inventory for presentation to tour operators in January. They are seeking hotels, local transportation companies, and activities (boat tours, kayak outfitters, golf courses, fishing charters etc.) to be added into their system.
Co-founded by Joseph Walker, who represents the Charlotte Harbor Visitor & Convention Bureau in Brazil, Chameleon Global is a global marketplace that is free to use for approved travel professionals across the globe. This unique consortium has more than 200,000 products and services inside, including connections with GTA, Hotelbeds, Travco, Tourico, Walker Travel Group Italy and France (WTG), and hundreds of local or regional receptive operators as well.
Accommodations will be able to book local attractions through this system, which will enhance customer service. Chameleon also has the capability to streamline the packaging process, which is still popular with consumers.
If interested in learning more, register with Chameleon and either Mr. Joseph Walker or Mr. Sylvain Lecerf will be in touch with you.
Follow these step-by-step instructions to register. There is no cost to you to register.
The best way for new potential clients to get an access on chameleon is to:
Go on www.chameleon.global
Click on sign-up on top right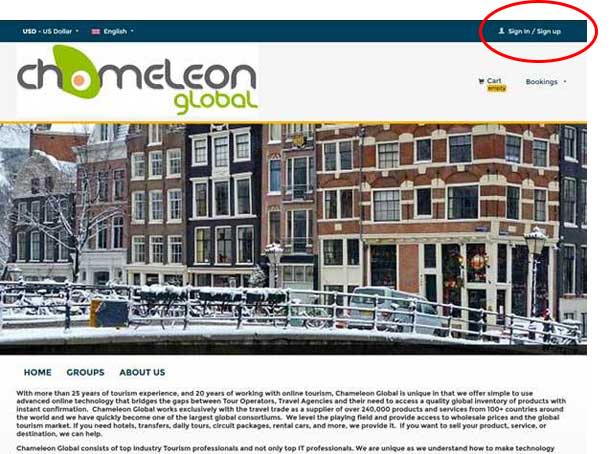 Click again on "Wholesale Agent" Sign Up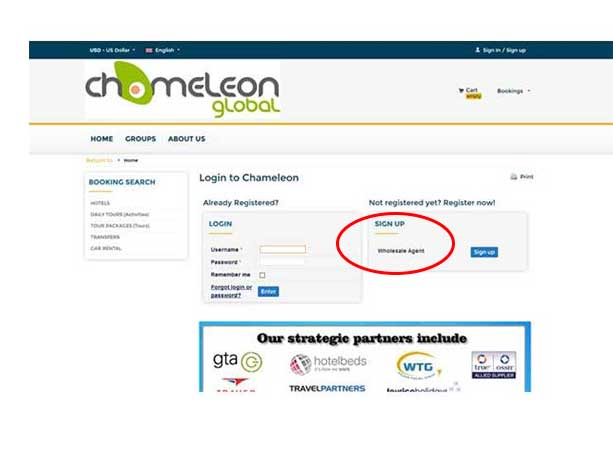 Fill in the Registration Form
By placing your product (whether hotel rates, tour rates, etc.) with Chameleon Global, your business will be visible and available to international and domestic travel professionals seeking Southwest Florida services and amenities for their clients.